[toc]
A rewards credit card is simply any card that has an incentive-based rewards program attached to it. Most offer this to some degree. The only difference is with 0% APR cards, which offer a no-interest period for a set amount of time.
If you're on the market for a rewards credit card it will be hard to settle on just one. They all seem to have something unique to offer. Even the ones marketed for certain types of consumers, such as gas cards for regular drivers, might not offer the best value. So you have to be careful when choosing and make sure whichever cards you apply for will give you a great return.
With that said, the credit specialists at Elite Personal Finance have worked together to break down the best rewards cards. You can check out our other lists or read our general review below; see our list of the best 0% APR cashback, standard cashback, and travel reward cards on the market.
The Best Rewards Credit Cards
If you're a responsible borrower, running your day-to-day finances on a reward-based credit card can be extremely advantageous. You can find legitimate credit cards that offer as much as 6% cashback, whether in cash, travel or merchandise rewards, on most of your purchases.
Below you'll find the reward cards that get the highest recommendations from the Elite Personal Finance team!
Chase Sapphire Preferred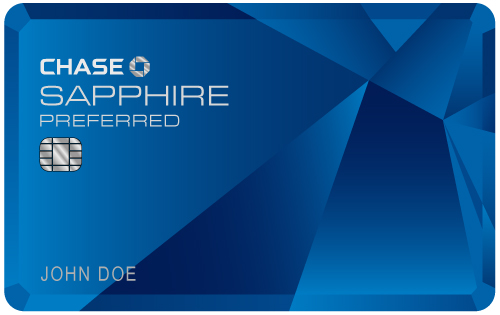 This rewards card is incredibly invaluable for those who go out of their way to maximize their rewards earnings.You're able to capitalize on your cashback rewards by entering the Ultimate Rewards program they offer. This will get you upwards of 2.5% cash back when eating out or going on vacation. You can also get Ultimate Rewards points, each of which are worth a penny and you get $50 worth of points for signing up for it.
So you will get anywhere from 1.25% to 2.50% in cashback reward with the Chase Sapphire Preferred card. The Ultimate Reward program can score you $625 in free travel rewards if you manage to buy $4,000 in stuff with the card within the first three months of having it.
Another cool feature is that a lot of hotels will let you exchange your credit card reward points for reward points at the hotel. So if you are just short for a certain package at the hotel, just pass over some of your rewards to get your travel bonus sooner.
Even more, if you need to you can pull from you reward points to lower your statement amount. You might even be able to make your minimum payment solely off your reward points that get earned each day.
Citi Double Cash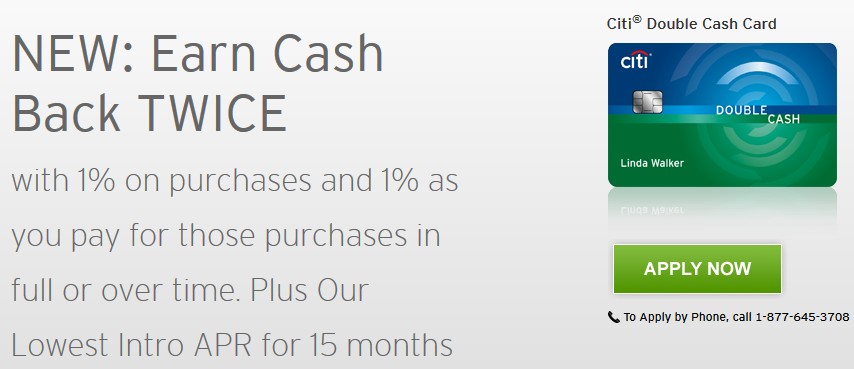 So the Citi Double Cash credit card gives you 1% cash back on your purchases. This amount is doubled as the purchases are paid off. You don't even need to cover the full amount; pay at least the minimum due for each billing cycle and you'll get the second half of your reward.
So if you pay $100 of your $1,000 purchase which had a $10 cash back already the $100 is 10% of your debt which would mean $1 of cash back paid for this month. Then if you pay it off in the next cycle you would get the remaining $9, making it $20 total (2%) in cash back on your purchases.
You can get approved for an 18-month 0% APR period. Then you face an APR of between 13.24% and 23.24% depending on your credit status after the 18 months is over.
Now something super awesome about the Citi Double Cash card is that you can get the 2% cash back for as much as you can possibly purchase. So if you bought $1 million in stuff on your card in a year, you would get $10,000 in cash back and then it would be doubled to $20,000 in total after $1 million in debt gets paid off. Meanwhile, you'd only get around $500 or so if you used many other cards.
Chase Freedom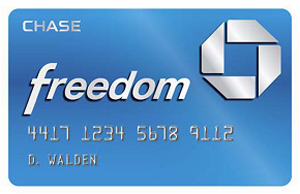 The Chase Freedom credit card gives you $150 once you purchase $500 worth of stuff in the first three months. You can throw on an authorized user in this time frame and score an additional $25 in bonus cash.
A great thing … You have no annual fee to pay with this card. And you can even get approved for a 15-month 0% interest period, which is followed by a 14.24%, 19.24%, or 23.24% APR.
Now here's where it gets good: you get 5% cash back for as much as $1,500 in bonus approved products four times a year. This includes wholesalers like Costco and The Warehouse Club, restaurants, gas stations and many other types of stores. You'll also earn a flat 1% cash back on anything else and you can accumulate these points over a period of time without having to worry about whether they'll expire.
Further, you get purchase protection that covers you for a maximum of $500 a claim or $50,000 an account if there's a price cut within the first 120 days after your purchase.
Chase Freedom Unlimited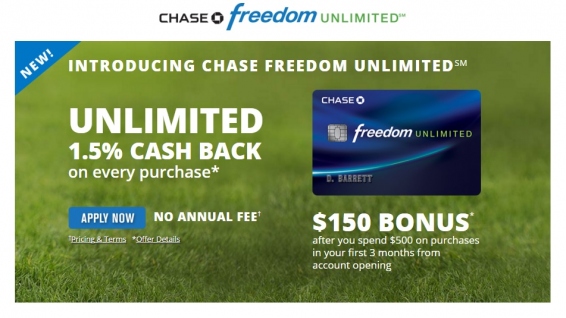 The Chase Freedom Unlimited card provides you with a flat 1.5% cash back on all purchases. You won't get the big 5% rewards like you do with the basic Chase Freedom card. But this could easily amount to much more than you would get otherwise. The standard card only gives 1% cash back on most purchases, so a big spender would benefit more off a flat 1.5% rate than a range of cash back levels.
You have no annual fee with the Chase Freedom Unlimited card. You get 15 months of no interest and then you'll get an APR ranging from 14.24% to 23.24% depending on your credit. You'll get the $150 sign up bonus after purchasing $500 in under three months, just like you would with the standard Chase Freedom card. You'll also get the $25 bonus for adding an authorized user in the same time frame.
There are many other credit cards that offer a 1.5% flat cash back rate. You might want to compare them if this is the type of reward incentive you want. Some of the better ones are the Barclaycard CashForward World MasterCard and the Capital One Quicksilver Cash Rewards card.
MBNA World Elite MasterCard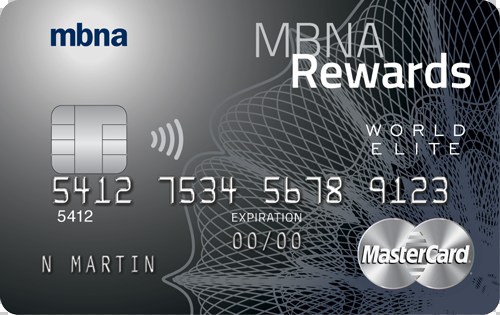 The MBNA World Elite MasterCard provide you with a 6-month 0% interest period and a $0 annual fee. Once you buy something you'll get 5,000 bonus points, which is worth $50 in cash or travel rewards. You also receive a point for every $1 you spend. Further, you have 90 days of purchase protection with it.
Once your no-interest period ends, you'll typically pay a 19.99% APR on your purchases.
MBNA Rewards World Elite MasterCard
This is almost the same credit card, but it comes with 2% in cash back rewards.
When you first join there's no annual fee, but starting the second year it costs $89 annually. The only problem is that you need to have at least $70,000 in income to get this credit card. Or, if you have a co-signer, you could get it with a $120,000 household income instead.
If you get it, you'll get 10,000 bonus points for signing up, which equates to $100 for free. Make a qualifying purchase and your account will get credited with the bonus — simple as that!
This card is better for those that have high monthly transaction amounts. If you have a lot of income but you don't spend much with your it, then you will only earn a little. Since there's a $89 annual fee after the second year you are going to want to make sure you spend enough to make it worthwhile. You can always get the standard MBNA Word Elite MasterCard instead and avoid the annual fee altogether, but that means settling for 1% instead of 2% in cash back rewards.
Barclaycard CashForward World MasterCard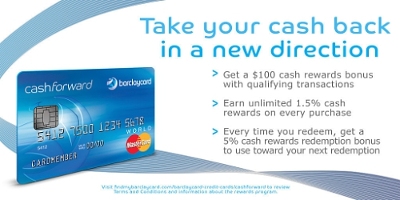 If you want to leave all the gimmicks behind and get straight-up cash back rewards, the CashForward World MasterCard will give you a flat 1.5% cash back rate. This is a bit more than what most offer for a flat rate on all purchases. There are obviously cards that offer closer to 5% in cash back but you need to buy certain types of items or shop at particular kinds of stores to qualify for the higher rebate.
You also still get to enjoy a no-interest period, which consists of 12 months. This is followed by an APR of 15.24%, 19.24%, and 23.24% depending on how your credit is after the 12 months.
A cool thing about the Barclaycard CashForward World MasterCard is that it also offers a 5% cash back reward in the form of a redemption bonus. Say you spend $100 and get $5 back, well 5% more is added to that (so another 25 cents) as a booster.
Also, $100 will be added to your account whenever you spend at least $500. You even get to pull your FICO score for free if you have this card.
Honorable mentions: Discover it Miles Cashback Match (1%), Capital One Quickilver Cash Rewards (1.5%), and Blue Cash Preferred Card from American Express (1%).
Types of Credit Card Reward Programs
Most credit cards have some type of reward-based incentive. The ones that are marketed as having such typically fall under one of these categories — airline, cashback, gas, hotel, retail, and travel.
Before overwhelming yourself, it's a good idea to get a feel for how each of these cards differ. Sometimes the types can cross over — for instance, a cashback card might also be a travel reward.
To make things easier, here's how we break down these sections on the Elite Personal Finance blog:
Airline Rewards 
These are cards that are used by people who fly regularly, whether domestically or abroad. The reward incentives are usually points-based instead of direct cashback. They sometimes give closer to 10% back and sometimes the sign-up bonus is worth as much as $500 to $1,000.
The Best Airline Rewards Credit Card: We're big fans of the Chase Sapphire Preferred card. It gives you a sign-up bonus worth between $500 and $625, and they have a wide 1:1 points transfer program. It has a $95 annual fee, but it's free for the first year!
Cashback Rewards
Some of them offer a straight up reimbursement for a set percent of what you spend in stores. The amount of cashback you receive is different — most offer between 1% and 2% for flat rate cashback. If you look for something more lucrative, you could get upwards of 5% for certain purchases.
The Best Cashback Rewards Credit Card: If you're a big shopper, then the absolute best cashback for you would be the Citi Double Cash card. It compensates you with 1% of your purchase amount upfront, and another 1% once the balance is paid. This means you get an effective rate of 2% cashback on all your purchases, while most other flat-rate cards will give you 1% or 1.5% back at best.
Gas Store Rewards
These are cards that reward you for spending money on gas. They offer upwards of 5% in cashback. Sometimes you will get other savings and specialty bonuses. For the most part, you'll need to get a gas reward card through a franchised gas station. You'll have to shop there for gas every time you gas up to make it worth your while.
The Best Gas Rewards Credit Card: We aren't big advocates on gas credit cards because they usually reduce your overall rate of return. You can get the same or more in cashback through a typical cashback credit card. So take the time to look at those before settling for a particular gas card. And remember, you'll have to start planning out when and where you gas up each time you're running low to maximize the card's value.
Instead, we recommend you go for a standard cashback card that offers extra for spending money on gas. You might be able to get 2% or 3% back (and sometimes even 5%) on your gas purchases this way. Then you also know you're getting at least a little back on all your other purchases, regardless of where you shop.
If you are stuck on getting a gas rewards card, then just go for the PenFed Cash Rewards Plus card. This gives you 5% back on all gas purchases, which is the best flat cashback rate on gas that you will find right now!
Hotel Rewards
The Best Hotel Rewards Credit Card: Everyone at Elite Personal Finance finds the Starwood Preferred Guest credit card to be the best choice of hotel card. It offers a 1:1 point transfer program with a 25% bonus on every 20,000 points transferred. Your sign-up bonus is worth $600 (or $750 if you do the points transfer) and you just have to spend $3,000 in your first three months to get it.
Retail Store Rewards
Retail reward credit cards typically offer cashback incentives when shopping at the store that sponsors them. If it's not just a store-based card, MasterCard or VISA might have a standard cashback agreement in place. There are many of them that have at least 1% cashback everywhere and then a little extra in specific stores. But you have to be very careful; if you're ever stuck shopping at a certain store, you're limited to their prices which could costs you more.
The Best Retail Rewards Credit Card: A retail card has to offer a bigger reward than the top cashback, which isn't easy when they have a bottom line to meet. Airlines and hotels don't struggle with beating the approximately 5% maximum cashback though, as they can provide a steeper discount.
With that said, you can always get the Amazon.com Rewards VISA card which gives 3% back on Amazon.com purchases, 2% back on gas, pharmacies and restaurants, and 1% back on everything else. Since Amazon.com has just about anything and everything, and they regularly have the best price, it's certainly a great retail rewards card to have.
Travel Rewards
Credit cards with rewards for traveling will offer incentives on flights, hotel reservations, vehicle rentals, and much more. Sometimes they focus in on one of these areas — like how the Starwood Preferred Guest card is meant for hotel rewards mainly. But there are many that are the full package, offering reward points and cash-out options on flight bookings, hotel stays, and etc.
The Best Travel Rewards Credit Card: If you are someone who flies a lot, whether domestically or across the world, the Southwest Airlines Rapid Rewards Premier card is your best bet with a sign-up bonus that's worth up to $1,250 if claimed right. For those who stay in hotels in the US a lot, the Starwood Preferred Guest card is the number one option with a sign-up bonus that's worth $750 towards a qualifying flight.
Rewards Credit Cards FAQs
How much can you make?
The biggest cash-in comes from taking advantage of large sign-up bonuses. Most offer you anywhere from $100 to $400 in a one-off payment. However, if you shop around you will notice there are a few specialty rewards cards that give you $500 to $1,000 for your sign-up bonus instead. Of course, you have to pay attention to the fine print; typically the sign-up bonus is released after you spend at least a certain amount on your card within the first three months.
Which type of offers is the best?
You shouldn't worry too much about the exact type of card you want. Focus on the fine print to get an idea on how much value you can extract. Look at which stores you can shop at, the maximum you can get back per month, quarter or year, and anything else that affects your return rate. Also look online for specific reviews from cardholders that have used it; ThePointsGuy.com is a great source for those looking to maximize the value of their reward cards!
What is the average APR?
The biggest downfall with reward credit cards is that they usually come with a higher APR than traditional credit cards. You can get closer to 10% APR for quite a few standard cards, while most reward cards are more in the 14% to 16% range. If you're only an average borrower, you might see yourself with a 20% or higher APR rate.
Are there reward credit cards for people with bad credit?
Unfortunately, there are not many reward credit cards that are available for people with bad credit. In fact, it's hard to get any unsecured credit card if you have already destroyed your creditworthiness. If you want to get rewarded for your spending, and if you want to build up your credit, you can still get the secured Discover it card. This will give you 1% back on all purchases, but for gas and groceries you get 2% cashback.