[toc]
A travel rewards credit card can save you thousands each year in traveling costs. If you regularly fly or stay in hotels, it would be well worth obtaining such a card. You can find many that have no annual fee and that even come with sign-up bonuses well into the $100's if you look hard enough.
Of course, you do not want to get a travel rewards card and then find out it costs you an arm and a leg in balance transfer fees, interest payments, and etc. So you have to be very careful when you compare each of the travel credit cards that are on the market.
At Elite Personal Finance, we find ourselves regularly looking at all the different travel rewards credit cards that are on the market. We have a pretty good idea on how they differ and what pros and cons exist for each of them. So we've taken the time to compile you a list of the best travel credit cards of 2018 to give you the best offers around.
The Best Reward Credit Cards for Travel
It can certainly be tough to select a travel reward credit card for you. But there are some high quality options on the market. Each of the ones listed below are considered to be top quality, but that doesn't necessarily mean they are right for you. Our list is based on the cards that give the most back, but 'the most' is a vague term as what you can earn depends on how you spend. So we've covered all the basis — there will be a high-value rewards card here for you below, whether you travel domestically or internationally.
So here are some cashback travel credit cards we at Elite Personal Finance recommend …
Chase Sapphire Preferred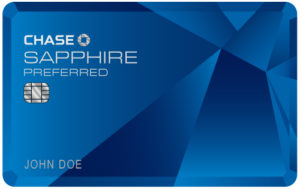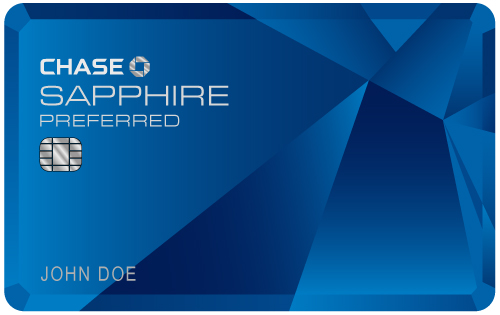 The Sapphire Preferred Card gives you $500 in cash or $625 worth of points as a new cardholder. All you need to do is spend at least $4,000 with the card in your first three months. It comes with a $95 annual fee, but this part is free in your first year. This is similar to the AMEX card we mentioned earlier, which has a $400 bonus for new cardholders but it also has a $450 annual fee.
This card offers 1% cashback on all purchases. This reward is doubled for any travel. You also get 2% cashback for travel and restaurant transactions.
Furthermore, the Chase Ultimate Rewards Program Gives You 20% Off!
You can get 20% off a lot of your travel purchases via Chase Ultimate Rewards.
You can even do 1:1 point transfers to maximize your travel rewards!
1:1 point transfers are possible between your Chase card rewards points and various other travel rewards accounts.
The list of companies partnered into this program include:
Air France
British Airways
Hyatt
IHG Hotels
Korean Airlines
Marriott
Ritz Carlton
Signapore KrisFlyer
Southwest Airlines
United Airlines
Virgin Atlantic
There are many other places you can transfer your reward points to through each of the affiliated companies above. As an example, you can save 20% on Air Canada transactions as they are owned by United Airlines. You can get the same discount with American Airlines too, since they are owned by British Airways.
Some extra benefits include: up to $100,000 in coverage towards rental car liabilities, up to $40,000 annual coverage for trip delays and cancellations, and $3,000 towards lost or stolen luggage.
Sign-up Perks for the Chase Sapphire Preferred Card
The Chase Sapphire Preferred Card doesn't come with a huge set of sign-up bonuses. But what it does offer is more than enough to make it worth getting this card.
To start, you will get 50,000 points after spending $4,000 in three months. This is an incredible $625 value as long as you redeem it through their travel rewards program.
Sapphire cardholders also get to enjoy no annual fee in the first year. This saves you $95, but you'll have to cover this cost in the following years.
If you plan to add an authorized user, you'll earn even more. There's a 5,000-point bonus for the first user you add to your card as long as you do it in the first three months. This is worth $62.50 if you claim it towards a travel-based purchase.
Chase Freedom Unlimited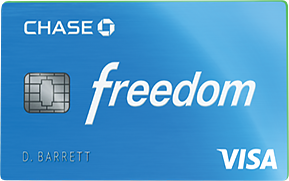 The Chase Freedom Unlimited card is good to have in combination with the Chase Sapphire Preferred Card. It gives you better rewards on typical purchases and even has a rotating 5% cashback rewards for certain purchases.
With this card, you will enjoy 5% cashback on certain purchases which gives you up to $75 every three months if you spend enough. To get the maximum back, you would need to spend at least $1,500 each three months in a qualifying category.
The categories are always changing, and there's a new one every three months. Usually it will apply towards something like gas purchases, eating out, or buying stuff at wholesale stores.
Here's the current 5% cashback reward schedule:
January 1st to March 31st of 2016: gas purchases and local transportation
April 1st to June 30th of 2016: grocery stores and wholesale stores
July 1st to Sept 30th of 2016: restaurants
October 1st to Dec 31st of 2016: holiday purchases
Another great thing is that this card has no annual fee.
The card also has a mobile app that lets you turn your reward points into virtual retail gift cards. You can then order products online using the card you purchased through the app.
Sign-up Perks for the Chase Freedom Unlimited Card
As a new cardholder you can get $150 after you buy $500 in stuff with your Chase Freedom Unlimited Card.
You get 0% interest for the first 15 months. This applies towards both balance transfer fees and outstanding debts. It then shifts to between a 14.24% and 23.24% APR depending on your creditworthiness.
Citi Double Cash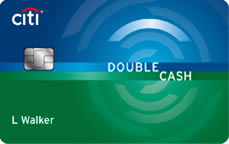 This isn't a specialty travel rewards credit card by any means. But, it might be one of the best value reward cards for frequent travelers to get. You receive an incredible 2% cashback on all purchases with 1% right away and the other 1% after you pay your balance in full.
Remember, this is just an everyday cashback rewards credit card. It is not a miles rewards card by any means, but that shouldn't matter. You want to earn miles or reward points to spend towards future travels, right? Well you can use cash just as easily. People just focus on reward points cards because they usually give you more towards your travel purchases than a basic cashback card does.
But with 2% back on everything you can't go wrong!
Even for those looking to get a high-rate cashback card, the Citi Double Cash card offers more than any other flat rate card on the market.
To milk even more rewards, make use of the Price Advantage feature. You can get upwards of $1,200 annually (up to $300 per item) when there's a cheaper retail price for something you bought. The card issuer actually scans for better prices, and if one is found in 60 days or less you'll get the price difference credited to you. Simply awesome!
Sign-up Perks for the Citi Double Cash Card
You do not get any real sign-up perks with the Citi Double Cash card. It is all about that flat 2% rate, which was introduced as an industry-first to beat out all the competing cashback reward cards.
Thankfully, you aren't held back by any extreme costs. It has no annual fee so you can use it freely. You can even combine it with a travel rewards card, like many do with the Chase Freedom Unlimited and Chase Preferred Sapphire. When doing this, you can enjoy 2% on all purchases that likely would've gotten you only 1% and you can still take advantage of the higher cashback on certain transactions.
Also, this is a card that works for both people with moderate and excellent credit status. The APR you get could be 12.99%, 17.99% or 22.99% depending on your creditworthiness.
Southwest Airlines Rapid Rewards Premier VISA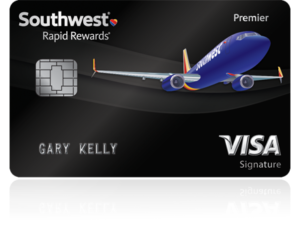 This card is perfect for those who do most of their traveling and spending in the US.
You get 2% cashback on transactions with participating airlines, car rental services and hotels. Everything else nets you a 1% cashback reward.
Once you get reward points you can redeem them towards a flight with them to get the best value possible. If you do this it has to be through one of their airlines. You will pay more or less in points for the same flight depending on when it is and how far ahead it gets booked.
To give you an idea, a last-minute flight could cost $540 and require 31,000 points even though for just 17,000 points you could get a $400-value flight if booked ahead. This is one of those cards where you have to be careful, because the amount of value you get out of it depends on how you use it.
On average though, you can say each reward point is worth about 1.5 cents.
Comes with a $99 annual fee.
Sign-up Perks for the Southwest Airlines Rapid Rewards Premier Card
As a new cardholder, you will get 50,000 reward points after spending $2,000 in under three months. This is worth approximately $750 if redeemed towards one of their flights.
Every year you will get 6,000 points added as an 'anniversary bonus' as well, which is a $90 value that nearly makes up for the unavoidable $99 annual fee.
Starwood Preferred Guest (and Business) Card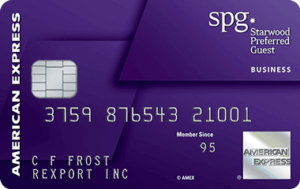 If you are more of a hotel person than a frequent flyer, the Starwood Preferred Guest card is a great alternative for you. It is viewed as potentially being the best hotel reward card around which makes it perfect for the avid traveler. Even more, they have a business version of this card that's perfect for anyone who flies or stays domestically on a regular basis for work purposes.
They have a complex rewards program. Instead of basic reward points or 'miles' you actually get Starpoints. They have a lot of ways you can redeem these points too!
What are the Starpoints actually worth and how are they redeemed?
Starpoints are worth roughly 2.4 cents each. They can be transferred at a 1:1 rate to a lot of different airlines. If you're in a different country, you won't have any foreign transaction fee to cover. Even better, if you do the points transfer you'll score 5,000 points on top of every 20,000 Starpoints that get transferred. So you can do this amount in each transfer and get a 25% multiplier on all your rewards!
If you choose to redeem your Starpoints at a qualifying hotel, here are your current options:
Aloft SM
elementSM
Four Points by Sheraton
Le Meridien
Sheraton
Starwood Hotels
St. Regis Hotels & Resorts
The Luxury Collection
W Hotels
Westin
Some other benefits include: any Wi-Fi surcharges during hotel stays get covered for you, access to over a million Wi-Fi hotspots you can use across the world, and with their Nights & Flights program you can get every fifth night at a qualifying hotel for free.
Sign-up Perks for the Starwood Preferred Guest Card
You will receive 25,000 Starpoints once you spend at least $3,000 within three months. This is approximately a $600 value. But if you play your cards right, you can boost the value of your points dramatically. The 25% booster when you transfer the points out would make the sign-up bonus $750 instead.
Yet, if you are lucky you can get upwards of five cents per point. This would mean the sign-up bonus would be worth $1,250 instead which is huge of course.
You also get to enjoy a 0% APR period that lasts for 12 months on anything you transfer onto the card in the first 45 days. This means you can use the Starwood Preferred Guest Card to consolidate your other credit card debts while reaping the reward of a no-interest period. It's a win-win situation!
While this card has a $95 annual fee, your first year is free.
Travel Reward Credit Cards FAQs
What Credit Score is Needed for a Travel Reward Card?
The credit score you require varies by credit card issuer. Some will accept those who have average credit, but the majority are looking for excellent creditworthiness. Typically, you will see a fair amount of application approvals if you have a credit rating that's 650 or higher. Those who have a FICO score of 690 or more tend to get approved for all of the cards listed here.
However, you have to keep in mind that a lot of the travel reward cards require you to have a certain amount of annual income. You might not qualify for a card because of this, even if your credit rating is 'through the roof'.
What is the Best Travel Card Signup Offer?
The best signup bonus comes from the Chase Sapphire. You can get $625 put towards your purchase with this card. If you want to get your sign-up bonus in cash, this will mean your bonus is worth $500 instead. To qualify for the bonus, all you have to do is transact at least $4,000 in stores over your first three months.
Once you go to redeem the $625 worth of points, you can make a purchase through the Chase Ultimate Rewards program. Through here, you can make reservations at various airlines and hotels and your points will stretch further. If you have reward points elsewhere, you can also do a 1:1 points transfer to many airline and hotel reward programs.
Do Travel Credit Cards Have Annual Fees?
Most credit cards with travel reward programs do charge a little under $100 a year for annual fees. There are even some that charge closer to $500 yearly. But these are for people who spend tens or hundreds of thousands a year while traveling around. There are still a handful of travel credit cards that have no annual fees; even some of the better that do charge this fee will have it set to $0 for the first year. The cards from our list that have no annual fee at all are Chase Freedom Unlimited and Citi Double Cash.
Which Travel Rewards Card Has the Best APR?
Whenever you look at an offer with a cashback-style rewards program, usually you don't get a favorable APR. The Citi Double Cash Card gives a 12.99% APR for those with excellent creditworthiness. This is a bit ahead of most of the competition; typically, even if you're an amazing borrower, you'll have no better than a 14.24% APR.
Do They Offer No-Interest Periods?
With a travel reward credit card, it is possible to have a no-interest period. Some offer it for both your balance owing and your balance transfers. Others will just give you one of the two — and yes, there are some of them that provide 0% only for balance transfers in the first year. The Chase Freedom Unlimited we detailed earlier is one of those hidden gems, as it gives you an incredible 15-month no interest period. That's pretty good for a card with 5% cashback and no annual fees.
How Can You Earn More?
You need to be very careful when signing up for an offers an incentive for your travel-related spending. You might get more or less cash back (whether in cash or points) depending on which card you get. There are also some that will not cover certain transactions. Even worse, quite a few have high foreign transaction fees which eliminates the value of the card if you're an international traveler. So you really have to make sure it is right for you before applying for it; read all the fine print and learn how their point system works, what their points are worth, and where you can use them!
Which Travel Rewards Credit Cards are the Best?
You want a travel rewards card that guarantees you a profit on your investment. If there's a $200 annual fee, the reward incentive has to be large enough to pay that back. Then you want to make a little extra to get something out of the card. Many cashback reward cards with no annual fees offer around $400 or $500 in value each year. So you could need to earn upwards of $700 in travel rewards to just break even.
Surprisingly, you will find quite a few offers that reward you with $1,000 or more in a year without making you jump through tons of hoops.
As an example: you can get the Platinum Card from American Express which has a $450 annual fee. This seems like it would have no value, but by spending $3,000 in three months you'll get $400 in reward points. This alone covers most of your first year's fee. Then you also have $200 in credits towards airline baggage fees every year. But we don't recommend this particular card, because you mostly earn rewards based off your flight and hotel reservations.
Which are the Best of Them for Average / Bad Credit?
If you have poor or mediocre credit, getting any cashback rewards credit card will prove to be a challenge. Your only workaround is a secured cashback rewards card. The Discover it secured card is one of very few that offer this; they'll give you 1% cashback on everything, and 2% on groceries and gas.