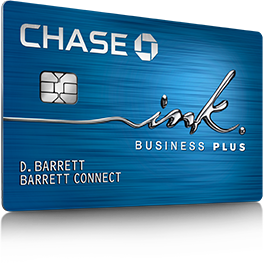 We've mentioned other business credit cards in the past, but there is nothing like the all-new, Chase Ink Plus Business credit card. Through our research and usage, we've found that this card holds an extreme amount of credibility and offers a lot of flexibility. Between security measures taken and rewards for each dollar you spend, there's no reason why you wouldn't be excited to use this card as a business owner.
Review and Benefits of Chase Ink Plus Business Credit Card
When you sign up, there is a $0 annual fee for the first year. Every year afterwards, it is $95.
Traveling to a vacation destination on your time off? Thankfully, there is no foreign transaction fee.  This is huge for business people who travel often.
Rewards and sign-up incentives
The rewards aspect of this card is delightful. With Chase, your points are worth 25% more when you use decide to book your trip through Chase. You may be asking yourself about the sign-up bonus as well: they have many of them! If you're about to purchase equipment or repairs at a cost of $5,000 or more, you will immediately earn 50,000 bonus points. You may be asking yourself if those points are even worth anything. Let's just say that 50,000 points is almost $650 towards your next trip!
Pros and Cons
If you're purchasing a new cell phone with a contract, getting within the company snack room, or simply making an supply store run, you'll earn 5x as many points for each dollar that you spend within these areas each year.
Con: You can only do this until you reach the yearly limit of $50,000. Afterwards, you have to wait until your year is up to get 5x as many points on another $50,000.
There is also the option of earning 2x points for every dollar you spend while getting gas or booking a hotel – especially when you book directly to the hotel and use your business credit card.
Con: Like the 5x option, you can only do this until you reach $50,000. After you've reached this limit, you must wait until your year is up (the 1 year anniversary of the date you signed up), to start getting these reward points again.
If you don't use your card much, you may not want this card, however, for every other purchase you make, you can still earn points! With every dollar you spend elsewhere using your Ink from Chase business credit card, you're able to earn one point.
Con: There is NO con to this option! You don't have to wait any amount of time before earning more of these rewards.
When you present this card, there's a huge chance you can get 20% off of purchases like airfare, car rentals, hotel accommodations and even select cruises. But it's best to note that these discounts only work when you book through the Ultimate Rewards program.
Other pros to consider:
Insurance and reimbursements for trip cancellations or other hiccups on your trip.
When you book with this card, you're automatically covered in case your business trip (or trip in general) is interrupted or cancelled by any means. When you use this insurance, you can be reimbursed to upwards of $5,000, depending in how much you spent on the trip itself.
Chip Technology within every Ink Card
No fees on international purchases (unlike many other cards)
Mobile app to keep track of your receipts and purchases
Set spending fees for your employees (this is great if you have that one employee you want to keep an eye on!)
Companies to earn rewards with through Chase's INK card:
IHG Rewards Club
Southwest (Rapid Rewards)
The Ritz-Carlton
Amtrak
Korean Air Skypass
Singapore Airlines (KrisFlyer)
Virgin Atlantic Flying Club
Marriot Rewards
Hyatt Cold Passport
Mileage PLUS United
APR Rates
A lot of times, business owners will make their decision simply based on the APR rates. So we're laying them out on the table for you.
The general APR: 15.25% (variable)
The penalty APR: 29.99% (variable)
Cash advance APR: 19.24%
These rates will allow you to decide if this is the best for you. If you're known to pay not on time, this card may not be good for you. If you're known to take out cash advances and you've shopped around, this may be the lowest one you've come across.
Con: There is no special APR for signing on. What you see is what you get.
What other cards compare?
It's important to know if you're signing up for the best of the best, so we've found other new business credit cards to compare to.
Ink Cash Business Credit Card
While this card is also by chase, these two cards are designed for both types of businesses: large business and small business that don't spend as much. The normal Ink plus credit card is great for larger companies that meet the spending minimums where as the Ink Cash is designed for the budget and finances of a smaller business.
Information about the Ink Cash business Credit Card:
Instead up to $50,000 for rewards points, the Ink Cash offers up to $25,000 per year, for earning points.
Earn 5% when you shop at office supply stores or phone companies
Like Discover, you can earn rewards when you get gas and eat at restaurants: 2%.
Introductory APR unlike the Ink Plus card: 0% APR for the first year, 13.24% after the first 12 months.
Con of the Ink Cash business credit card:
Not eligible for 25% reward points for traveling and hotel accommodations
Foreign transaction fees unlike the Ink Plus card: 3% instead of 0.
In conclusion
While both credit cards are great and have the same goal in mind: to keep businesses running with reward incentives and credit, there are definitely cards that outshine one another. The Ink Plus business credit card seems great on paper but the true test to this great card is how stable your business is and how much you spend or make. It's important to not blindly apply for this card and use it as you can ruin your credit and your business' credit. Make sure you shop around and see which option works best for your large or small business.