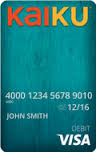 The Kaiku Visa Prepaid Card is a viable option for individuals who want a trustworthy way to manage finances without getting into loads of debt. The Kaiku Visa can be reloaded through a variety of ways and then used to make purchases. Consumers can use the card to keep better track of their spending and not be charged any fees or interest to do so. There are many pros and cons to obtaining and using the Kaiku prepaid card. This review takes an honest look at how well the card works.
Pros for the Kaiku Prepaid Card
There are a lot of really good reasons to use a Kaiku card. It's not a credit card, it's a prepaid card so there is no need for a credit check when you apply for the card. There is also no cost for applying to get a Kaiku prepaid card and they do not require a minimum balance. As long as you direct deposit at least $750 each month and use only ATMs that are in the network, there are no fees. Even if you don't deposit the required $750, the fees for maintaining the card are only $3; that's the cheapest for prepaid cards anywhere.
Funds can also be transferred to the card via several means which makes it very handy.
The Kaiku Mobile App is easy to use on a smartphone. Using the app you can transfer money from a bank account, send money to other Kaiku cardholders, check balances, and keep up with your transactions. You can also use the app to find in-network ATMs to use for no charge. Using your smartphone, you can take a picture of a check and have it deposited directly into your account.
One feature that stands out is mobile quicklook. Quicklook monitors your spending and alerts you to any fraudulent activities on the account.
There are plenty of in-network ATMs to use for transactions free of charge. You can get cash directly from around 55,000 in-network ATMs.
If you want more cards, you can add up to three family members.
The Kaiku is a Visa card and is accepted anywhere that accepts Visa.
You're not stuck with an ugly card. There are 6 different colors and designs to choose for your cards. You are free to choose the one which best reflects your personal taste and style.
Are There Any Cons for the Kaiku card?
The Kaiku prepaid card doesn't have a lot of bad things to report. There is a $3 maintenance fee on the card if you do not use a direct deposit each month to deposit the minimum of $750. There is also a fee if you use an ATM outside the network for transactions.
There are not any "extras" some people prefer. You are not going to earn any "extra points" or "rewards" for using the card.
How Does the Kaiku Visa Prepaid Card Work?
The Kaiku card is a prepaid visa and works similarly to a debit card you get from a bank. The basics are the same as far as making purchases or withdrawals, you are just withdrawing against the amount you deposited in the account. There are some other features of the Kaiku card too that make it more useful.
One feature is that you can deposit your benefit check or paycheck directly to the card for no additional fees. You also have the option of transferring money from one Kaiku card to another for no charge. A text alert is sent to you when money gets deposited on the card or if your balance runs low.
You can provide other family members with cards too. Customer service is totally free if you need them. That may sound silly, but some cards actually charge customers to call customer service.
How is money put on the card?
There are several different ways to put funds on the Kaiku card including:
Using a mobile app to take a picture of the check and deposit it into the account
Set up a direct deposit with your paycheck or benefits check
Transfer money from a Paypal or Amazon account
Through a MoneyGram facility
Deposit Cash at a Visa Readylink location
Transferring funds from another card
You can withdraw cash for no charge at ATMs and in-network Point-of-Sale (POS) devices.
Overview of the Kaiku Visa Prepaid Card Fees
| | |
| --- | --- |
| Feature | Fee |
| Monthly Maintenance | $3 |
| ATM- in network | $0 |
| ATM out of network | $1.45 per transaction |
| Pay Bills | $0 |
| Purchases with card | $0 |
| Replacing a card | $0 |
| Mobile App | $0 |
| Activation Fee | $0 |
| PIN Transactions | $0 |
| Inactivity Fees | $0 |
| Customer Support | $0 |
| Cancellation Fees | $0 |
Is the Kaiku Prepaid Card a Good Deal?
The Kaiku visa card is a great alternative to using modern credit cards. It is easier to obtain since you don't have to "qualify" for it. The card is handy to use just like cash but it is protected from fraudulent activities and purchases. It works similarly to a debit card you get from the bank. Make sure there are plenty of in-network ATMs conveniently located near you so you will not be charged a fee for using the card for transactions. It's also important to decide how convenient loading the card is for you. A direct deposit is the best option since you can avoid paying extra fees.
Using a prepaid card like those provided by Kaiku can be a financial advantage for many people. IF you are ready to get your finances back into your control, click here to sign up for a Kaiku Visa Prepaid Card.