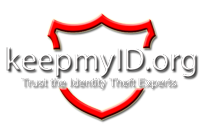 Ever since we posted our Top 10 Identity Theft Protection Services list, we've been looking at services that could potentially be very popular and useful for 2016.
There aren't many new fraud prevention companies appearing, but sometimes there's a bold company that promises more than the biggest competition.
What is keepmyID?
KeepmyID is one of the newest entrants to the identity theft protection space. They aim to go up against heavy hitters, such as Lifelock and Identity Guard, and claim that they do more than both of these services.
The service was created by former law enforcement agents and a chief prosecutor as an answer to the less reliable identity fraud protection services out there.
The point was to help protect people from getting wrongfully arrested due to someone using their good name to commit crimes. It's to help prevent thieves from taking out cards in your name and running up thousands of dollars in debt.
They claim that they block identity theft from happening, and that the competition simply sends alerts. They also claim that they will help freeze and thaw your credit, recover anything you lose, and protect you against many of the common types of fraud.
Their main unique selling proposition is that it was created by people active in law enforcement: Texas Ranger Terry Welch, Chief Prosecutor Rick Jackson, and police officer Kim Sanders. Their expertise in helping people out in fraud cases is meant to lend a hand to the average person.
Is Keepmyid Legit or a Scam?
Despite this company being very new, this company is not a scam.
They do deliver on a lot, however bold their claims may be. They offer credit monitoring services and do allow you to get ID restoration from their professional staff.
The endorsements by police are not quite enough, however: the truth is, they DO offer very good protection against fraud, and they DO allow you to protect your identity from thieves and scammers.
Their main protection is education: they teach you how to avoid getting your identity stolen and how you can use KeepmyID to make sure you keep your good name.
Their coverage includes having a lawyer and trained support team who will do all the hard work for you: cancelling your cards, putting in a fraud report, and sending you credit alerts.
Keepmyid Review: What Do They Offer?
An identity protection service like Lifelock or Identity Guard tends to have multiple options. However, KeepMyID only has a single option for $20/month. Not enough to break the bank, but more than the cheapest services offered by their competitors.
This company has very similar options to many other monitoring and theft prevention companies. It's reasonably straightforward, but we're going to cover all of their features and explain them in more detail.
Continuous Fraud Alerts: They will contact your credit bureau and have your credit report put on alert. This means that if someone makes an inquiry or tries to open a new account, you will be notified and will be able to authorize the transaction if it is yours.
Three Credit Reports: They do not clarify whether or not you are getting them from three bureaus, or if they simply give you three reports each year. However, you will be able to see your reports and correct any possible mistakes.
Junk Mail Blocking: They will help place you on the 'do not mail' list for many different pre-approved offers, preventing mail thieves from taking your information.
Unsolicited Call Blocking: This is a rare service and allows you to block phone calls from telemarketers and other people who want to call you to get you to buy things.
Legal Protection: This is the cornerstone of their protection. As a worst case scenario, if something happens to you then you will have access to legal counsel, all fully covered by your plan.
Try KeepMyID today to get all of these features and more!
Do they actually block identity theft?
Despite what any service may claim, no service can actually prevent 100% of all identity theft.
However, KeepmyID keeps their things by putting a continuous fraud alert on your credit profile and alerting you whenever any sort of account is opened in your name. This is similar to what other companies do.
Another way they're able to keep their claim is that they have a lawyer on retainer for you that will proactively fight for you in case any sort of fraud does happen.
KeepMyID vs Lifelock vs Identity Guard
The main advantage that the other competitors have over KMID is their pricing structure. Both Lifelock and IG have cheaper options, and KMID only has a $20/month option.
However, KMID has the following advantages over both services:
Actual legal help available. Their competitors do have trained staff, but they do not have a lawyer that will actually assist you in making and fighting a case.
Options to initiate a credit freeze. KMID allows you to do what only a few credit monitoring companies can, and Lifelock and IG simply do not have the option.
If you need these things and value them highly, then you might want to choose KeepMyID. However, if price is an issue, then your other two choices are your best bet.
Read our full reviews of Lifelock and Identity Guard here!
How Can I Help Protect Against Identity Theft?
Shred all junk mail, paid bills, and pre-approved credit card offers. Investing in a shredder can prevent dumpster divers from getting your identity off of paper.
Don't post everything about yourself on social media. Never share your date of birth or Social Security number on an unsecure site, and don't make this information publicly viewable.
Keep your credit card information in a safe, secure place. For example, Lifelock Wallet allows you to do this through your phone, and you're protected even if your phone gets stolen through a military-grade security system that encrypts your password.
Keep a record of everyone you give your SSN to. If you apply for a job and put your SSN on an application, keep that recorded in case someone at the organization steals your identity, or in case of a data breach. This will help police find the culprit and eventually clear your name.
If you want to protect yourself against theft with a police-trusted company, get KeepMyID today!