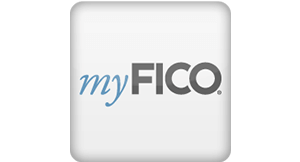 So you're looking for top notch credit reporting, and possibly some identity theft protection as well. There are lots of companies to choose from, but you decide to look at myFICO.
myFICO is one of the most popular choices for reporting, as it is run by the company who invented the idea of a numerical representation of your creditworthiness.
But we at Elite Personal Finance understand that you need a little bit of help with your decision.
We'll go over what myFICO is, if it's safe or not, and some common complaints. Then, we'll talk about everything that myFICO offers, and how it stacks up against other offerings by LifeLock, Identity Guard, Credit Karma and more.
What Is MyFico?
myFICO is a suite of services offered by FICO, formerly known as the Fair Isaac Corporation. FICO was started in in 1956 by a mathematician and an engineer. Their goal was to figure out how to assess the creditworthiness of your average consumer.
They used the formula they created to gauge how much a borrower can be trusted with.
Now, FICO has grown into a software company that sells credit reporting and protection suites for people, as well as selling credit information in bundles to lenders so that they can make smarter decisions on where to lend their money.
But what is myFICO, exactly?
myFICO is their main, consumer-facing brand and is represented by a website that offers information about credit scores, tips for how to improve your score, and products that will help you protect your identity and learn more about your credit. They also show you some credit cards that you could qualify for, based on your FICO score.
myFICO Credit Cards: Telling You What You Qualify For
myFICO's website has a section where they tell you what credit cards you are likely to qualify for, based on your credit score. You can check that out here.
This can help you if you have bad credit, or are recovering from a bankruptcy, and want to rebuild your credit by taking out a card. Or, in case you have good credit and want to see the best cards, you can look at it and compare benefits.
myFICO Customer Service Reviews and Complaints
Their customer service is noted as being some of the worst, according to reviews on Pissed Consumer.
They're known for shady tactics, such as asking far too much information over the phone. They're also known for leaving people waiting on the line for far too long.
However, the biggest complaint is about how difficult it is to cancel the service.
How to Cancel myFICO Services
If you try to cancel the service over the Internet, they will still keep charging you. So your only option is to do it over the phone. They also try to give you a discount if you decide that you want to cancel over the phone, in hopes that you will keep the service at the reduced rate.
Even so, many customers have been charged multiple times after cancelling. In this case, their only option was to dispute the charge.
If you cancel their services and ask for a credit report, you are given a generic score that is not, in fact, an accurate representation of the actual score that lenders are using.
Is myFICO Safe? Is it Legit? Or is it a Big Scam?
Despite all of the customer complaints, myFICO is indeed safe and a legitimate credit reporting service.
However, it must be noted that you may receive some customer service problems if you join the service. The service itself is useful, and if you pay money for the service then it's not necessarily a scam.
They also give you some of the most accurate credit score numbers.
However, it might not be the best offer out there, depending on what you want.
How Do I Get the Free Annual Credit Report from myFICO?
Every American has the right to a single free credit report. However, myFICO sells credit reports online from your choice of bureaus, available at any time. They do not offer the annual credit report.
If you want your annual FREE credit report, you can get it from this website, Annual Credit Report. This website was set up by the three bureaus, Equifax, Experian and TransUnion, to comply with federal law. And yes, it's legit.
Other websites such as Credit Karma will give you free credit reports, as well; however, they will often try to upsell you on their own services. This website is the only source authorized by federal law to get your annual report.
Score 1B Report: Choose Your Credit Bureau
This package is a very simple one. Purchasing this gets you instant access to your credit report from your choice of bureau! Other services that give this to you often only let you get their preferred credit bureau.
It's a one-time score, so if you want another one in the following month, you will need to order it again.
It costs $19.95 to get and can be bought as many times as you like.
Buying this is not recommended unless you have a fear of some recent fraud. If you simply want to check your credit report every year, you are entitled to a free credit score from Annual Credit Report.
Score 3B Report: Get All 3 Scores for Comparison
This one is a bigger version of the 1B package, as this allows you to get a credit score from all 3 bureaus: Equifax, Experian, and TransUnion.
For $59.85, this is the exact same price as buying them all separately. However, buying this report allows you to compare them in depth, and see where the differences may lie. Different bureaus often use different criteria for determining your score, so look out for them!
Essentials 1B: Identity Credit Protection and Monthly Score Tracking
The Essentials 1B is their basic monthly offering, which gives you monthly access to your FICO score by Equifax only.
It costs $19.95/month, which is the same price as buying your credit report from them every month. It also includes some added features.
So what are the benefits of this package? They include:
5 Additional FICO Score Variations: Different lenders use different versions of your FICO score, for their own purposes. With this package, you can get access to the versions that different types of lenders will use.
Interest Rate Tracking: They will track the interest rate you are likely to be given based on your score. This can change month to month, so it's important to watch!
Monitoring and Tracking: You will get alerts in case of changes to your credit score, which could possibly alert you to fraud. You will also get access to a graph of changes to your score over time.
$1 Million Identity Theft Coverage: myFICO will cover up to $1 Million in out of pocket costs related to identity restoration.
Lost Wallet Protection: In case of you losing your wallet, myFICO's team of representatives will help you along the process of protecting your sensitive information.
Ultimate 3B: 3 Bureau Scores and Added Protection
The Ultimate 3B package has added benefits to the Essentials 1B.
The primary advantage to this package is that it gives you monthly access to all 3 FICO scores from all 3 bureaus, including some variations to them that lenders may use to make decisions about your loan and your interest rate.
It costs $29.95/month, and is probably the best deal they offer if you want the most accurate credit scores that people are actually using. Since it's approximately $60 for a one-time report from all bureaus, this is a solid option.
Some added benefits to this package include:
Comprehensive Identity Scan: This is the starting point for their fraud protection services. They will scan the Internet and other databases for as much information as possible that relates to your name, your SSN, your driver's license, your medical insurance numbers, and more. They will find out if you may be a victim of fraud, and will help you take steps to stop it.
Identity Threat Alerts: myFICO will alert you if there are possible threats to your identity's safety.
Black Market Website Surveillance: They will scour many black market websites for your information, so you can see if your name is for sale.
SSN Monitoring: They will monitor your Social Security number to see if any crimes or fraud are being committed using your number, and to see if anyone is using your number to create an alias.
Identity Theft Protection: myFICO vs. Lifelock vs. Identity Guard
Lifelock and Identity Guard are the biggest names in identity theft protection services. They offer different levels of service and are known for credit monitoring, fraud insurance, and monitoring for potential theft.
They start at around $10/month (Lifelock at $9, Identity Guard at $10) and offer the following services in kind with MyFico:
Black Market Surveillance
SSN Monitoring
Lost Wallet Protection
$1 Million in Coverage
Credit Reporting and Monitoring
These services offer less robust credit reporting at $10/month, but they have much better services as you go up the levels.
Where myFICO fails is on the price point matter. For a $20/month service, it doesn't offer nearly as much identity theft protection as Lifelock and Identity Guard. And for $30/month, you can get much more from Lifelock Ultimate (check it out) or Identity Guard Platinum (Free Trial)!
However, if you want the most accurate and robust credit reporting, plus some assurance against fraud, myFICO is for you.
Free Credit Report and Score: myFICO vs. Credit Karma, Equifax and Experian
Now, you can get your free credit report from the annual credit report website. However, there are other services that promise to give you a similar credit report.
Credit Karma is one of them. However, Credit Karma's credit scores are not as accurate as myFICO's or the ones from the bureaus. They offer other credit reporting services, too, but myFICO offers them in a better way.
You can also get credit reports and scores from Equifax, Experian, and TransUnion as well. They will give you very similar scores to what you'll get from myFICO: much more alike than Credit Karma.
If you want the best in credit reporting and want to protect your good name at the same time, check out myFICO!
How Can I Improve My Credit Score?
Pay your bills on time. Most of your credit score is determined by your payment history. One missed payment will not kill your credit, though, so don't freak out! Many missed payments over time may indicate poor repayment habits, so be careful.
Pay your balances quickly. If you run up a large credit card balance because of a big purchase, that's not necessarily bad if you pay it off quickly. In fact, it could be beneficial to your score… but only if you pay it off in time!
Create a large and diversified portfolio of credit, over time. You don't want to overextend yourself in a single area: it may indicate that you are not responsible enough to hold many kinds of debt. So hold smaller amounts in different types, such as auto loans, retail credit, consumer credit cards, and home loans.
Alert the credit bureaus to fraud, if it happens. The FTC can help you file a case of identity fraud and some protection companies can help you along the process of restoring your good name and avoiding bankruptcy.
Keeping good credit is very important, but it does not need to be difficult! Simply by following these steps, you can have an excellent credit score and qualify for mortgages, business loans, and better rewards cards!
If you liked this post, please bookmark Elite Personal Finance and add us to your RSS feed. Like and share on Facebook and Twitter, and if you have anything to say, please comment below!