If identity theft has happened to you, then you are one of more than 10 million Americans who face this problem each year. Unfortunately, this number only seems to increase. Identity theft is one of the fastest growing crimes in the US. There is no way to fully prevent identity theft. But there are many things that you can do to decrease the risk of identity theft. Our team believes that people need better education on this topic.
We at ElitePersonalFinance take this problem seriously!
That is why we have crafted Identity Theft Safeguard – the most comprehensive guide that can be found online.
It was written by top identity theft experts – lawyers with extensive experience in identity theft, personal finance advisors, etc. As a matter of fact, ElitePersonalFinance is an expert blog. We are one of few blogs where only experts give advice.
Now we present you: Identity Theft Safeguard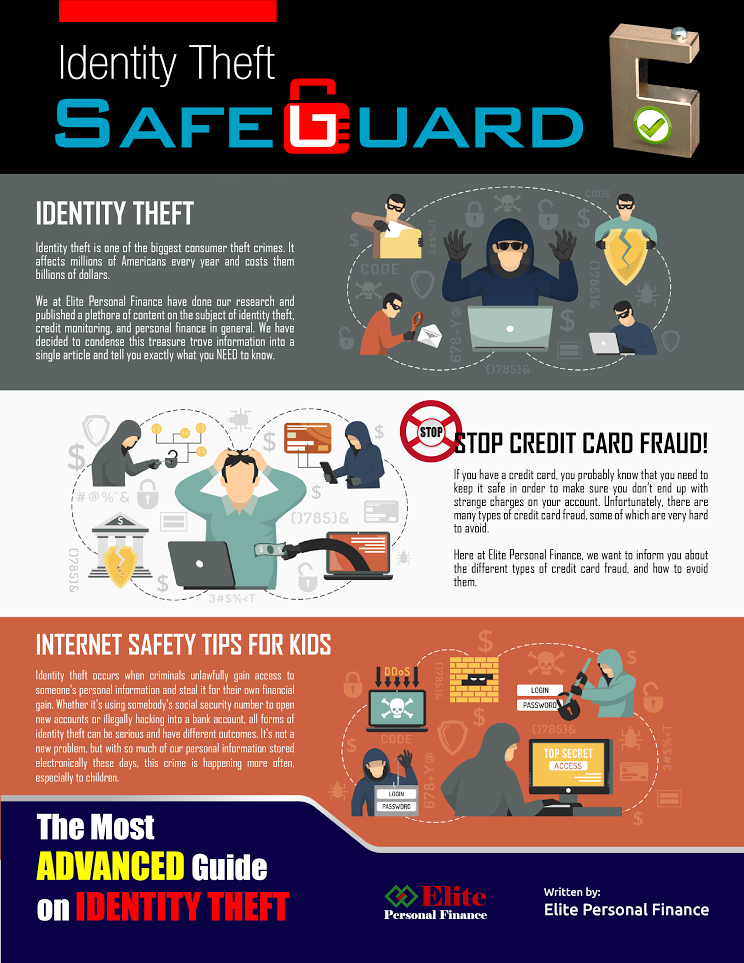 The most detailed list on the Internet! Yes, we did it for YOU! It was not easy. More than 10 experts participated in completing the list. We worked hard on this for a full month. Over 10,000 words in this article. We sincerely hope that you will like it.
This is the most effective way to prevent identity theft. How many ways to prevent identity theft do you know? Many? But only few of them are super effective! We called them The Master Plan. Read it and do the listed steps today.
For people who still don't know exactly what identity theft is, here is a brief guide on that. Here you will learn only basic information. If you are already familiar with this, move on to the next chapter.
Credit freeze is one of the most effective tactics that can help you prevent identity theft. Posting credit freeze is very affordable or even free (you will learn about fees in the next chapter). When you post credit freeze, this blocks creditors from pulling your credit report, so they cannot create accounts under your name. Of course, there are some advantages and disadvantages of using this method. We invite you to read them in our credit freeze quick guide.
In this chapter we provided a list of fees. Fees are different in different states and will also depend on an individual. Even if credit freeze is not free for you, it will be very cheap. The difference between our list and other similar lists of credit freeze fees is that we are always up to date. We've found many similar lists of credit freeze laws, but with incorrect information. People in ElitePersonalFinance team constantly check and update the fees. You can be sure that all the information in our list is correct.
Fraud alert is another great technique that people use to prevent identity theft. When you place a fraud alert, creditors are required to verify your identity. Although they are not required to do this by law, it can be considered a great and very effective way to prevent identity theft. In addition, your credit file is open, so you can apply for a new account, credit cards and so on. It is free to post, but you have to update it in time. Read our quick guide on fraud alert.
Here you will learn about different types of identity theft.
Protecting your Social Security Number is a very important step if you want to prevent identity theft. Let our experts help you with this.
Unfortunately, the answer is no. Credit monitoring/ identity theft companies can't help you to fully prevent identity theft. In most cases they only alert you to changes in your file. This means that they will only let you know after identity theft has happened. Of course, although there are many people who criticize credit monitoring, we can't completely ignore it. In addition, there are many free and reliable credit monitoring services. Obviously, some of the companies that charge for their services offer more features, but there are also numerous credit monitoring companies that offer their services for free. We at ElitePersonalFinance have carefully reviewed the biggest identity theft companies. We have written an absolutely truthful review, with exact advantages and disadvantages of every credit monitoring company. If you plan to buy credit monitoring or if you are not sure which one to pick, paid or free, we invite you to read our review.
Do you want to avoid paying for credit monitoring? These are the best companies that offer totally free identity theft protection. Of course, the fact that they are free means that there are some disadvantages to them, but many people, including experts at ElitePersonalFinance, approve these reliable credit monitoring companies. Register with one of them and get protection now. When people find a free offer, most of them will ask: What's the catch? In fact, there is no catch here. Some of these companies also offer paid plans, but these are optional. The only 'catch' is that there are fewer features in these free plans, such as only one bureau credit report. But apart from that, we can say that there are no catches.
Although some of these are paid, we have picked and tried to rank them based on the services that they offer. We have also included some free companies in the chart. The difference between our chart and those that you will find on other sites is that we really rank them by quality. If you want to pick a paid identity theft protection company, we invite you to check our list. We also have an additional list of best credit monitoring companies, where we have ranked them based on credit monitoring.
Here is a list of everything that identity theft protection companies offer. Based on the company that you use and the actual plan that you have there, you can expect these features. Here we give a list of them and also explain how they work.
We are sorry if you have to read this. What if I tell you that there are more than 10 million Americans a year that would be interested to read it? In case you need this information, here we have included every step that you have to take if identity theft happens to you. By the way, why don't you help us decrease this number? You can do that and help other people by sharing our list.
People feel confused if this happens to them and they often don't use their rights. In fact, laws provide protection rights in this case. Read this and know your rights!
Another advanced guide by our experts, helping you to prevent credit card fraud.
Internet and Phone Scams
Many people know about phishing, but in fact there are more types of phone scams that you can expect. Criminals use them to steal personal information from you. Here they are:
If you read them carefully, you will get great knowledge about these topics. We have spent a lot of time to explain them and give you advanced tips on how to prevent them.
These are very popular when it comes to stealing money from your credit card. We really hope that this guide will help you prevent that.
More Specific Types of Identity Theft
More Bonus Guides from Elite Personal Finance
CHAPTER 28 : While writing our Comprehensive Scholarship Guide, we found that there are numerous cases of scholarship scams. In fact, this article is related to these scams.
Stay always up to date. Read our category identity theft.