You walk into a government building.
The lady greeting you would like to know your full name.
Next, she asks for your home address.
All of a sudden, she wants your Social Security Number.
Now hold up … wait a second!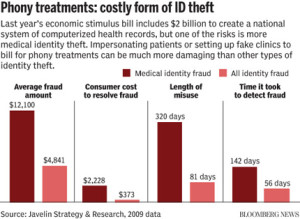 Javelin Strategy & Research held a study in 2009, where it was found that medical identity fraud cost victims almost triple that of normal identity theft tactics. In fact, the actual out-of-pocket costs to victims were seven times greater than that of all other types of identity fraud victims.
So, why are we so trusting in our government? The stats speak volumes for the identity theft epidemic that's playing out.
It all goes to show that we, as Americans, cannot assume our identities are safe. It means we need to educate ourselves on how to stop potential identity theft attacks before they happen.
That's not easy, when the very system that's there to protect us can turn their backs and destroy us in the blink of an eye.
Medical Identity Theft is a Real Threat!
You might shrug your shoulders at identity theft and think it will not ever happen to you. That's what a lot of victims once thought, too.
When it comes to medical identity theft, it's like getting selected for jury duty. You never know when it's your turn, but once it happens, you cannot get out of it.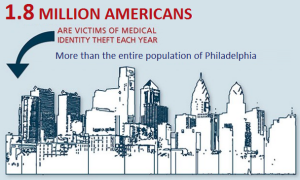 So, what's really causing such well-authorized medical systems to be so vulnerable to exploitation? You would think, in today's day and age, that our government would be able to patch any weak spots with ease. Instead, the stats just show a continued increase in medical identity theft victims year-over-year.
In fact, this recent study shows tremendous growth in cases of identity theft.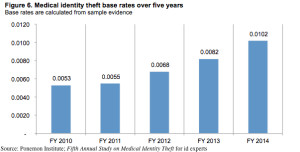 Easy enough to conclude, medical identity theft is NO laughing matter!
You must protect yourself today!
The Definition: Medical Identity Theft Explained
People read "medical identity theft" in two different ways.
1) They see it as an identity thief using medical databases to unlawfully obtain information for the purpose of defrauding others.
2) They see it as the way the fraudster benefited from the crime, such as by putting a dental bill in someone else's name.
Regardless, medical identity theft is defined as any type of identity fraud orchestrated around medical environments. Both classifications are accurate, but you can assume most will reference medical identity theft on the premise of identity thieves abusing medical databases.
How Medical Identity Theft Works
In most cases, a medical identity theft takes place after a state health board staff member used their database access for bad. Their privileged access would make it possible for them to grab the personal identifying information of upwards of millions of potential victims.
Most medical files contained a considerable amount of information. The bare necessities for these records tended to include the person's birth date, full name, address, and phone number. The vast majority of health-related databases, whether state health or medical insurance based, also included the person's Social Security Number. Further, a decent amount of these databases also held sensitive payment information on file.
This means any database or server compromise needs to be taken serious. The information that gets accessed can be used for identity fraud at any time. This is why those who might have had their information breached should invest in identity theft protection services. It serves as a secondary protection, allowing for early detection if a criminal does abuse your information.
As it's really a gamble whether you become a victim or not, it's almost become second nature to rely on identity theft protection. The truth is in the numbers, and the endless multi-million victim attacks go to show that it's just a matter of time before you are also a victim.
The 5 Largest U.S. Medical Identity Theft Attacks
Most reported breaches took place at the state level, but take a look below to get an idea on the magnitude of damage from the five largest medical identity thefts to date.
The Premera Blue Cross Hack (Jan 2015) – 11 million victims
Over 10 million Americans were affected by the Premera Blue Cross hack. The exploited information included bank account details, birth dates, full names, addresses, Social Security Numbers, and medical records. It was approximated that around six million of the victims were residents of Washington State.
The Excellus Blue Cross Blue Shield Hack (Sept 2015) – 10 million victims
Over 10 million Americans were affected by the Excellus Blue Cross Blue Shield hack. The exploited information included birth dates, full names, addresses, phone numbers, claim and payment details, and Social Security Numbers. During the attack, the credit card information of many victims also got compromised.
The Community Health Systems Hack (June 2014) – 4.5 million victims
Over 4.5 million Americans were affected by the Community Health Systems hack. The exploited information included full names, addresses, and Social Security Numbers. The breach took place between April and June of 2014, and affected files from at least 29 states and 206 hospitals.
The UCLA Health System Hack (July 2015) – 4.5 million victims
Up to 4.5 million Americans were affected by the UCLA Health Systems hack. The exploited information included birth dates, full names, health policy and Medicare numbers, medical records, and Social Security Numbers. The follow-up investigation lead to the conclusion that acceptable efforts to encrypt the information were not made by UCLA.
How Serious of a Threat is Medical Identity Theft?
The stats read loud and clear.
Above you saw 100 million Americans, over a third of the U.S. population, become affected as a result of just one of five security breaches in the past year. This means that, whether you like hearing it again or not, medical identity theft poses a serious threat to the safety of your identity.
If you have identity theft protection, you will not have to raise any eyebrows and question whether your identity is safe from these risks. It is always possible that your identity will get exploited, but your protection plan will cover your identity restoration expenses and legwork.
Of course, you should be fearing a potential medical identity theft attack if you do not have sufficient protection. This type of identity theft method is known for having a much higher out-of-pocket loss than most other types. In fact, an identity theft protection plan might not even cover all that a medical identity fraud situation could cost you.
That said, you cannot stop a state health board staff member from accessing your personal information and using it for illegal reasons. It's the most unavoidable type of identity theft there is, because you cannot just avoid giving clinics, hospitals and pharmacies your information.
Earlier this year, Forbes found medical identity theft has worsened over the years and continues to become a more significant threat in today's society. One of the more alarming points is that, when a state health board database gets breached, the criminal would obtain enough information to defraud the victims whenever he or she wanted. So, just the list of names, addresses, and Social Security Numbers alone would be of use, and abusable, for a long time.
Though, medical identity theft is not a new discovery and it has been flagged as a growing threat for a few years now. Fortune.com wrote on the subject last year, giving some good insight on why medical identity theft stats are only getting worse.
Conclusion: Medical Identity Theft Really Sucks!
It's the one type of identity theft you cannot prevent.
No matter how much identity theft protection can help, there's little you can do when the criminals are hand-fed the compromising information. All you can do is attempt to minimize the amount of damages you face. Or, hope your luck does not run out and you evade one of the many attacks that take place each and every year.
We really want to help you keep your identity safe, but this is one area where not even sound advice can help!
If you had it your way, what would you suggest the government does to put a stop to medical identity theft in the mass scale?