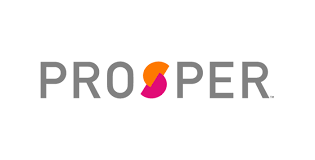 Prosper is Peer to Peer (P2P) lending the way of the future? It might seem this way with borrowers looking for better terms than brick and mortar banks and investors looking for better returns. Online lending has exploded in the last decade and Prosper is known as the trail blazer of this industry. In fact, this platform was the first P2P lender in the US when it was created in 2006. P2P lending can be risky, but this platform connects good-credit borrowers with savvy investors. Let's look at Prosper.com's processes for borrowers and lenders below!
Review of Prosper
Minimum Requirements
Credit score: 640
Income: There is no minimum, but users generally report upper five figure income.
Credit history:  There is no minimum history, but most of approved borrowers have multiple years of credit.
Debt-to-income ratio: 50% which does exclude mortgages
 LENDING TERMS
APRs range from: 5.99% to 36%
Minimum loan amount: $2,000
Maximum loan amount: $35,000
Loan Term: 3 or 5 years.
Funding timing: It usually takes 3-5 business days to receive your loan amount.
 Penalties and fees
Origination fee: 1% to 5% of the loan amount, which factors in the borrower's grade. This grade includes credit history, spending behavior and income.
There are no Pre-Payment Fees
There are late fees, which is either the larger of $15 or 5% of the payment.
Processing fees: None
Why don't You Register now and get a loan?
How Can Borrowers Benefit?
Prosper.com could be a good match for borrowers who:
Have above average credit scores. Although the minimum score is 640, Prosper's borrowers have an average score of 710.
Have a solid income. There is no income requirement, but average borrowers on the platform bring in $86,400. Luckily, most of these borrowers aren't strangers to money management and have experience with successfully managing multiple debts.
Want to utilize an experienced lender. This lender was founded in San Francisco during 2006 and was the first online lender to be established in the US.
Like wealth management apps. Prosper has its own version of Mint.com called, Prosper Daily, which allows borrowers to monitor payments and spending. Like Mint.com, it offers free monthly credit scores.
Prosper at a glance
Unlike other online lenders, Prosper.com doesn't use its own money to create loans. The company conducts underwriting with applicants and charges a fee to connect investors with approved borrowers. Some lenders like the Lending club use this same process, while others use its own capital to produce loans.
After applying for a loan, this platform will assign you a grade by analyzing your past spending habits, credit data and ratios such as your debt to income ratio. You can see your grade which determines your interest rate along with origination fees. On the flip side, investors can see your stats and use them to determine if they should invest in your loan.
How are these loans different?
Unfortunately, Propser.com doesn't offer the same degree of flexibility of other online lenders. For example, you can't change your payment schedule and will receive a late fee if you fail to make a payment. Other online lenders, such as, Lending Club, have more flexibility with loan terms and lower loan minimums. Also, it allows borrowers to file joint loan applications along with payment modification plans.
This online lender is a bit more rigid than other sites, but The Prosper Daily app is one of its main benefits. In fact, this app helps borrowers manage their spending in various ways. One main feature is subscription alerts, which tell you if you have old subscriptions, such as a magazine you don't read, and when those prices are raised.

How to apply for a Prosper loan – the approval process?
This site makes the application process simple which only takes a few minutes and you can apply directly on the website. You will need to fill in crucial details such as loan amounts, credit score, income, debts, and more! Most importantly, this site keeps your private information secure and once you finish the application, you'll be able to see your rates as well as loan options!
But what about Investors?
Here is some information for investors who want good returns outside of standard stocks and bonds.
Before investing in this online platform, investors need to know there have been two versions of Prosper.com. The first version was Prosper 1.0 which was in effect from 2006 to 2008 when underwriting standards were less stringent. For example, the minimum credit score was only 520, leading to negative returns. Fortunately, Prosper 2.0 was created in 2009 and is the current version of the site. Loan requirements became stricter with a minimum FICO score of 640 along with other standards like debt-income ratios. Thus, returns have significantly improved for investors and the following images shows the returns per loan grade. The safer grades like AA have lower returns while riskier grades like HR have higher returns.

Loan Grades and Prosper Scores
As shown above, this lender has 7 ratings called prosper rates which are AA, A, B, C, D, E and HR in order from safest to riskiest.  Rates begin at 5.99% for a short term (3-5-year duration) AA loan up to approximately 32% for a high-risk HR loan. Prosper dedicates a page on its site for borrower FAQ called the borrower help page. It has a section called "What are loan interest rates" found under the Applying section.
Besides a loan grade, borrowers are ranked with a score which ranges from a minimum of 1 to a maximum of 11. This score has been developed internally based on the typical payment records of Prosper's borrowers. In addition to using a loan grade, Prosper ranks borrowers with a Prosper score which range from 1-11. This is a score that they have developed internally based on the payment history of actual borrowers on their platform. Thus, this score and individual borrowers' credit information determines the interest rate.
Investor Requirements and Minimums
Prosper.com has specific standards that are required of all potential investors.
Age requirement: You must be at least 18, with a Social Security number in addition to an active checking or saving accounts.
You need to live in a state that permits this marketplace. Currently only, AK, CA, CO, CT, DE, DC, FL, GA, HI, ID, IL, LA, ME, MI, MN, MS, MO, MT, NV, NH, NY, OR, RI, SC, SD, UT, VT, VA, ,WA, WV, WI, and WY allows Prosper.
Other states like, AK, ID, MS, NV, NH, VA and WA have strict eligibility requirements like requiring at least a $70,000 annual gross income along with a net worth of $70,000. Also, residents can only invest 10% of their net worth in these loans.
Minimum Loan Investment: $25 per loan. It's recommended to buy at least 100 different loans at 25 dollars than 10 loans for $25o each. Like all investing, P2P lending is no different and diversification is king. Per Prosper.com, every investor with at least 100 loans has seen a positive return since July 2009.
P2P has risen in popularity among borrowers and lenders. Online lending is defying traditional lending by letting others besides banks, take part of the action. Nothing in life is without risk, but Prosper.com's system makes it easier for borrowers and lenders to mitigate risk. Prosper is a leader in this industry and click here to create an account for either lending or borrowing!
We at ElitePersonalFinance definitely approve this company, it is one of the top personal loan companies that you will find. Prosper is a legit loan company it is not scam!
Additional information
Prosper.com BBB – A+
Company Address and Phone:
Phone
Borrower Services
1-(866) 615-6319
Monday – Friday
8am – 9pm (ET)
5am – 6pm (PT)Saturday
9am – 5:30pm (ET)
6am – 2:30pm (PT)
Investor Services
1-(877) 646-5922
Monday – Friday
11am – 8pm (ET)
8am – 5pm (PT)
Address
Send loan payment to:
Prosper Marketplace Inc.
P.O. Box 396081
San Francisco, CA 94139–6081
Office location:
Prosper Funding LLC
221 Main Street, Suite 300
San Francisco, CA 94105