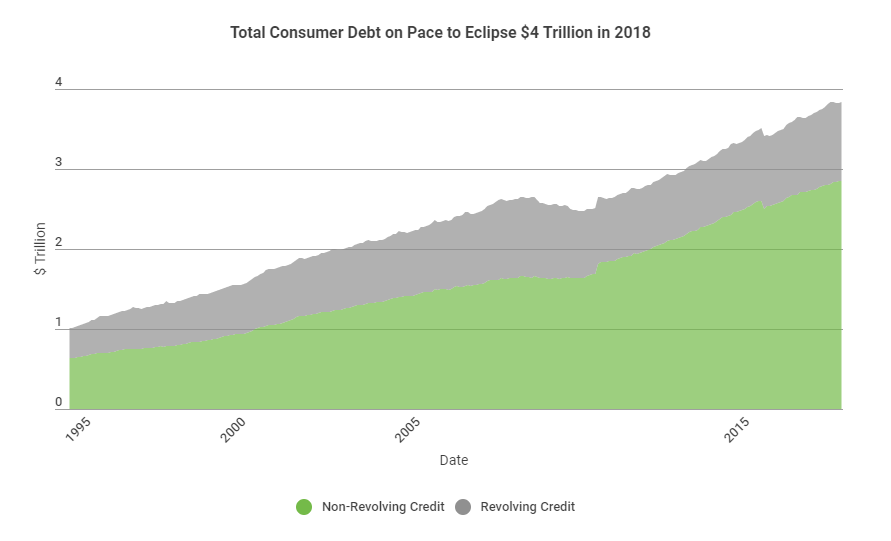 Since 2012, consumer debt has been constantly growing and will very likely reach a new record in the second half of this year.
About 10% of people's monthly income is directed toward paying nonmortgage debts such as credit cards, auto loans, student loans and personal loans.
There are three key areas that you need to think about when managing these balances.
We all know that Americans like to borrow. But the fact that the total consumer debt is going to reach $4 trillion by the end of this year doesn't look promising at all.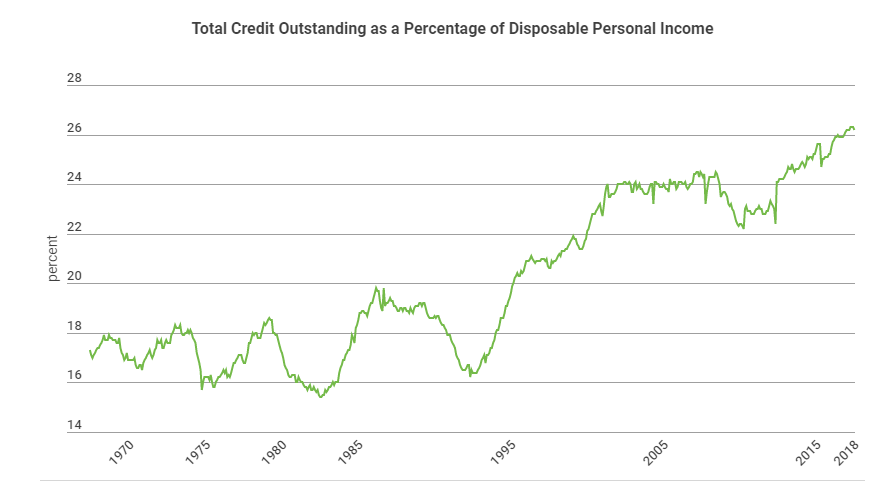 According to LendingTree, which analyzed data from the Federal Reserve on nonmortgage debts including credit cards, as well as auto, student and personal loans, Americans owe over 26% of their annual income to this debt. This is 4% more than in 2010, and higher than the level of debt in the mid-2000s, when credit was widely available.
Credit card and auto loan debts are increasing by over 7% a year, and housing debt is climbing by slightly more than 2%.
For about two years, consumer credit has been on the increase of 5 to 6 percent and LendingTree estimates that consumer debt will reach over $4 trillion by the end of 2018.
This is not a surprise considering that the level of debt has been on the increase since 2012. Consumers spend around 10 percent of their income paying this debt, while the same type of debt was about 12 to 13 percent in the period from 2000 to 2008.
However, credit card delinquency rates are at 2.4%, which is quite low.
If your personal debt is increasing, there are some things you should know.
Track your money. This means that you should know where your money is going. This especially goes for high-interest credit card debt, which keeps climbing each month. On the other hand, auto- and student-loan debts are not so concerning since they have lower interest rates.
The future of interest rates. If everything goes according to Federal Reserve plans, interest rates will be raised several times this year. This will definitely result in the increase of consumers' debt. For this reason, you should start thinking about refinancing your debts or at least some of them. If you do this, you could move your 15% APR credit card debt to a 7% APR personal loan, as well as refinance your student loan at a fixed rate and prevent the upcoming rate fluctuations destroy your finances.
You should always know how much money you earn and spend no matter how high the level of your personal debt is. This means that you should cut back on unnecessary subscriptions, reduce your bank fees and scale back on shopping.
Also, in case your credit card debt is increasing, consider switching to your debit card. This will allow you to whittle down your debts by first attacking the balances with the highest rates. On the other hand, in case you have a lot of small balances, you might want to neutralize them first.