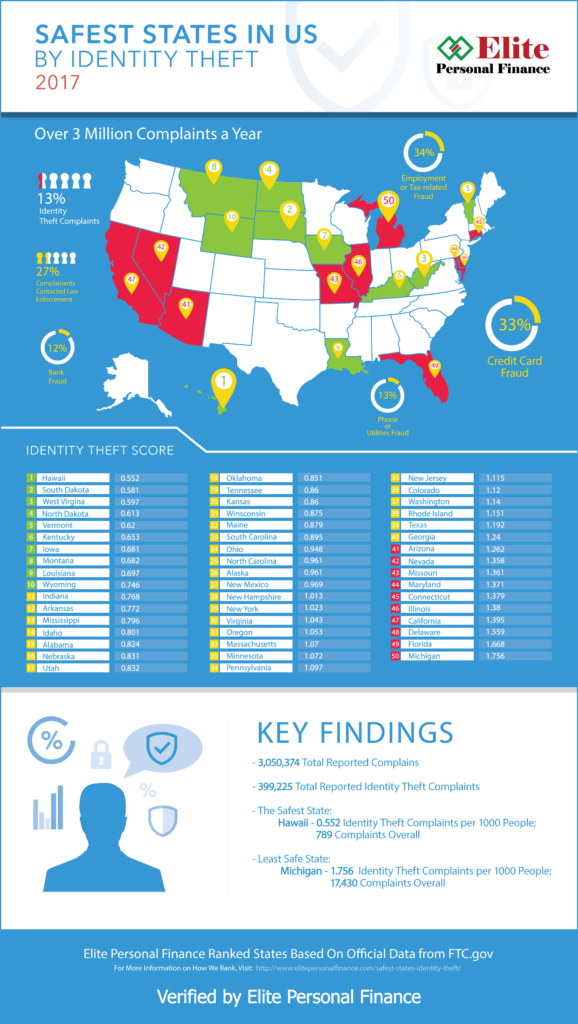 Residents in some cities are more vulnerable to identity theft, according to a review of federal data by Elite Personal Finance. There were 3,050,374 complaints in the U.S., data from the Federal Trade Commission in 2016.
US consumers paid $744 million in fraud complaints in 2016, while the average sum paid was $450.
You wouldn't be wrong, if you said that identity theft and fraud are more prevalent in urban areas. In fact, you can check our post on Safest US Cities by Identity Theft which clearly confirms this point, especially if you compare the results with those that we provided for Safest US States.
This is another post in the series of posts by Elite Personal Finance, in which we analyzed safety levels across the country. This time, we picked fraud in cities as our category.
METHODOLOGY & RANKING SYSTEM
In order to assess fraud levels in cities across the US, the data was collected from Federal Trade Commission's Consumer Sentinel Network Data Book for January-December 2016.
The next step was to analyze the data and calculate the number of fraud complaints per 1000 residents. Thus, the city with the 'lowest score' is the best in terms of fraud safety. To explain further, McAllen-Edinburg-Mission, TX, scored 1.555. In other words, in this city there were 1.555 fraud complaints per 1000 residents.
On the other hand, as the least safe city, Homosassa Springs scored 13.647, which means that there were 13.647 complaints per 1000 people in this city.
*Please note that not all the victims reported identity theft.
* *For more precise statistics, we analyzed metropolitan areas. Most of them have at least 100,000 residents, while a small number of them has 50,000 – 100,000.
100 Safest Cities (Metropolitan Areas) in the US
[table id=16 /]
50 Least Safe Cities By Fraud
[table id=17 /]
Key Findings
The safest city is McAllen-Edinburg-Mission, TX, with a score of 1.555 and 1,310 total fraud complaints. . It is followed by Yakima, WA and Brownsville-Harlingen, TX with 1.752 and 1.767 reports per 1000 people respectively.
The least safe city is Homosassa Springs, FL, with 13.647 reports per 1000 people and 1,925 total complaints. Santa Fe, NM and Prescott, AZ follow closely with respective scores of 7.264 and 7.041.
Homosassa Springs' number of complaints per 1000 people almost doubled the score of Santa Fe.
Homosassa Springs scored worse than the safest 6 cities combined.
More populated cities are less safe than those with smaller population.
How Safe Is Your City?
In case of any concerns about fraud issues in your city, you can share it in the comments below. Likewise, if you are satisfied with safety levels, please feel free to comment on that.
Sources:
– Federal Trade Commission: Consumer Sentinel Network Data Book for January – December 2016
– Javelin Strategy & Research: 2017 Identity Fraud Study
– United States Census Bureau: Annual Estimates of the Resident Population for the United States, Regions, States, and Puerto Rico: April 1, 2010 to July 1, 2016
Do you want to prevent identity theft? We can help.
100 Tips to Prevent Identity Theft – the most comprehensive list on the planet!
Read More About Identity Theft Here – we work everyday to provide you with the highest quality information on identity theft.
Identity Theft SafeGuard – The most comprehensive guide on how to prevent identity theft, written by Elite Personal Finance expert team!