Latest Update:    January 30, 2018
Getting identity theft protection is difficult, because it's just so expensive. You have hackers and other fraudsters tricking their way into your personal information all the time. And now even children are at risk, with stats floating around that suggest more than 10% of kids will be victimized before adulthood.
But seriously, identity theft is a growing concern and the only way you can prevent it is by having a legitimate family identity theft plan on your side.
Aside from that … you should also: Get a Credit Freeze!
This will prevent lenders from being able to open new accounts in your name without your prior approval. However, do keep in mind this will not protect against pre-existing account fraud as these lines need to stay open to be active. That's another reason to get identity protection, because then your bank accounts and credit cards will be proactively monitored.
You can read up on how to get a credit freeze on your credit report here: 'What is a Credit Freeze?' and if you're curious about what it would cost in your state then check this piece: 'Credit Freeze Laws by State'
With that said, it's important to be careful when choosing which identity protection service you get. There are many identity theft services available, but not all offer everything you could ever want. And that's why we're going to list the best of the best below!
Which Identity Theft Company is Best?
Choosing the best identity protection plan requires first thinking about what goes into providing such a service. These companies need to do a multitude of things to be efficient. Anything other than these features is just an add-on, but consider this as the bare minimum for your requirements:
Social Security Number monitoring
Address change verification
Public record monitoring
Bank account monitoring
Credit card monitoring
Insurance / loss protection
Lost / Stolen wallet assistance
So that's what you need to make sure a service provides. And that's what you will find in all of the suggestions we're giving you now, plus other great features we'll mention.
#1 – LifeLock: The Best in Business, Hands Down!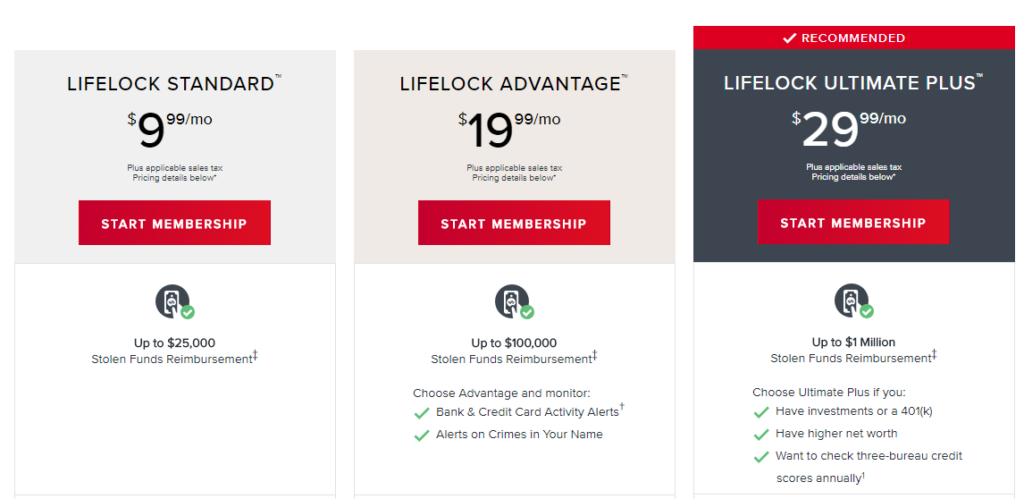 We cannot dethrone the King! (Read our awesome review here!)
Why Join LifeLock?
For the longest time, we have tried to put a creative twist on things. "IdentityProtect gives you full family coverage for under $30 a month," or, "Identity Guard has just as many features for a little cheaper!" … but it's not working, in the end, everyone who gets identity protection makes it to LifeLock at some point.
So we do have to admit they're the top player, and with six million members across the U.S., it is clear all of America trusts them the most.
How Much Does LifeLock Cost?
With LifeLock, you get protection through many different ways. Just look at all the great features included in the LifeLock Ultimate Plus plan which comes to under $30 a month and prices out competitively with other's comprehensive coverage. However, it quickly gets expensive as you double the Ultimate Plus cost to extend coverage to your spouse — and then LifeLock Junior runs an extra $5.99 per child.
You'll get features like this in Ultimate Plus:
U.S.-Based Restoration Team
SSN and Credit Alerts
Lost Wallet Protection
Address Change Verification
Dark Web Monitoring
LifeLock Privacy Monitor
Three Bureaus Credit Monitoring
Bank & Credit Card Activity Alerts
Alerts on Crimes Committed in Your Name
Data Breach Notifications
Fictitious Identity Monitoring
Three Bureaus Annual Credit Reports & Scores
The credit scores provided are VantageScore 3.0 credit scores based on data from Equifax, Experian and TransUnion respectively. Third parties use many different types of credit scores and are likely to use a different type of credit score to assess your creditworthiness.
Monthly One Bureau Credit Score Tracking:
The credit score provided is a VantageScore 3.0 credit score based on Equifax data. Third parties use many different types of credit scores and are likely to use a different type of credit score to assess your creditworthiness.
401(k) & Investment Activity Alerts
Bank Account Takeover & New Account Alerts
File-Sharing Network Searches
Sex Offender Registry Reports
Priority Live Member Support
As you can see, a serious list of great identity protection features!
Verdict: You should try LifeLock out because everyone that does is satisfied. If you don't like it just cancel, if you go with the Ultimate Plus plan you'll still be happy as you'll get your credit report and score out of it. They even provide them from all three of the major credit bureaus which is perfect.
If you want to sway from the norm, there are still some other great identity theft protection companies …
Disclaimer: "Service Guarantee benefits for State of New York members are provided under a Master Insurance Policy issued by State National Insurance Company. Benefits for all other members are provided under a Master Insurance Policy underwritten by United Specialty Insurance Company. Under the Service Guarantee LifeLock will spend up to $1 million to hire experts to help your recovery. Please see the policy for terms, conditions and exclusions at https://lifelock.com/legal ."
#2 – IdentityProtect: Super Cheap for Families!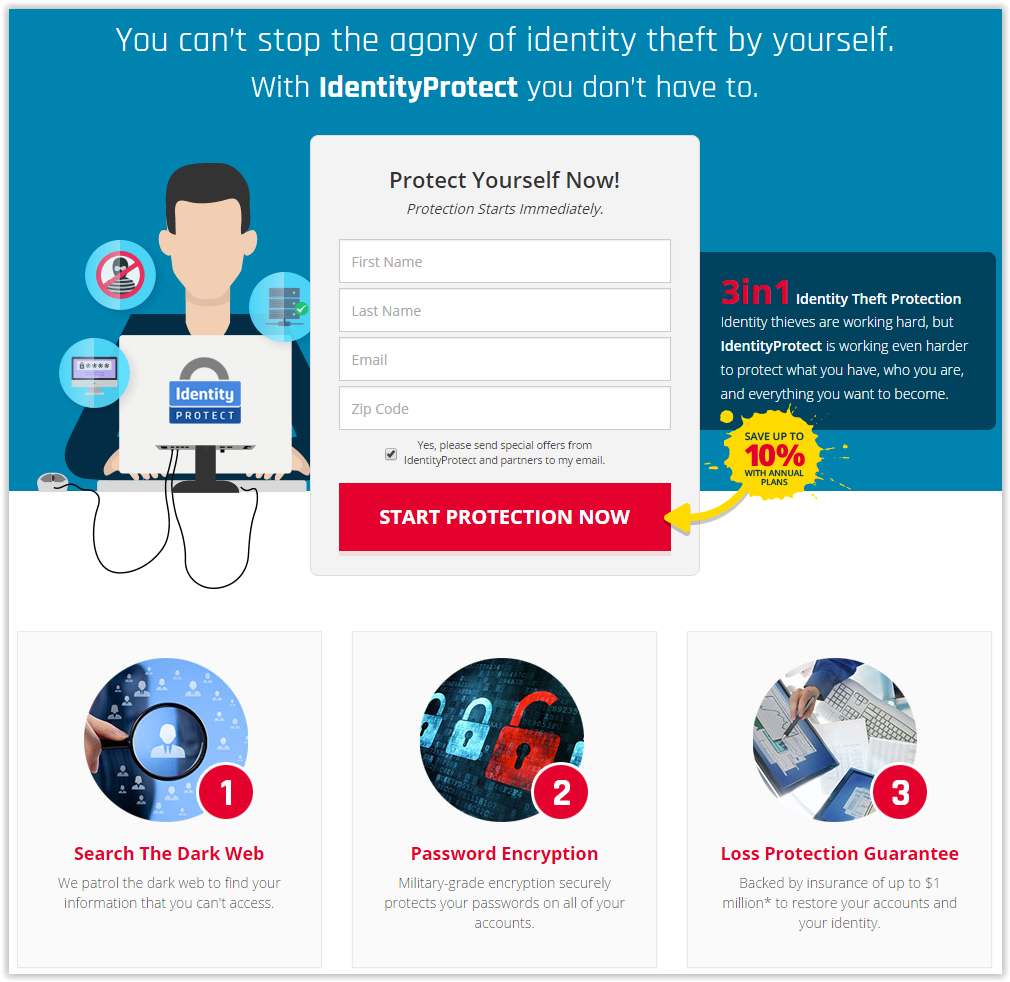 IdentityProtect gives you full family identity theft protection services for only $27.45 a month. This covers your spouses and children; you cannot find such an offer with LifeLock, where it would be $29.95 per adult and $5.99 (for LifeLock Junior) per added child.
Furthermore, if you do sign up you have a 7-day free trial. You can cancel at any time during these 7 days to avoid having your credit card charged.
How Much Does IdentityProtect Cost?
IdentityProtect offers three identity theft protection plans. The first is IdentityProtect Standard, which is their most basic coverage and runs $9.16 per month / $109.89 annually. Then they have IdentityProtect Advantage, which adds some credit report and score access and it runs $18.32 per month / $219.89 annually. But, the real value is in their comprehensive plan, IdentityProtect Ultimate, which allows you to get full family identity theft protection.
So why not try them out for free and decide whether you think it's worth your money? If you go with their $27.45 plan (Ultimate) you will get your credit report from all three of the major credit bureaus, so if you end up canceling at least you'll have something to take away from the experience.
Why IdentityProtect?
Obviously the full family coverage for a low cost is your big selling point here. But, you have to dig deeper and look at the versatility of their features. These guys are almost as good as LifeLock and you'll probably be happy regardless of which of these two family identity theft services you choose.
Some of their great features include:
$1 million stolen funds replacement
Address change verification
Bank account and credit card monitoring
Bank account takeover alerts
Black-market (dark web) monitoring
Court / criminal record scanning
Lost or stolen wallet protection
Password encryption
Reduced pre-approved credit card offers
Social media reputation monitoring (for parents!)
Social Security Number monitoring
Tri-bureau credit monitoring services
We reviewed them recently, so if you want to get a closer look read our IdentityProtect here and judge for yourself.
Verdict: They are only a little less efficient than LifeLock, but the fundamentals of the protection are still intact. If you want protection for your spouse and/or kids, this is definitely the way to go. A family of five would save over $50 a month on identity theft coverage by switching from LifeLock to IdentityProtect. Try IdentityProtect out and see for yourself; if anything, cancel during the 7-day trial if you aren't happy.
Next, we have to pick a third place — right? But it's hard because the two companies above are really in a league of their own. So we had to think about what company has something unique to offer.
But unfortunately we couldn't … and one of the reasons is because IdentityProtect is a CSID provider, which is a white label service and that means there are many companies like them. They just can't compete price wise because IdentityProtect has built themselves to be a household name.
We really do only recommend you join LifeLock or IdentityProtect. There are too many weak points with any other option, and you'll be glad you picked either of these two. So why recommend more? 
And if you don't believe in the power of identity theft protection services, we're going to show you exactly what all the great features listed above can do for you.
Identity Theft Protection Services – Features
When you sign up for one of the two plans above, you're getting access to a multitude of protection features. In fact, we only started to list the many things each plan will do to help. But it's easy to get caught up in reading, and we want you to really understand what these features are doing behind-the-scenes. Because until an identity theft attempt is detected and stopped, you probably won't feel the value of your protection service.
Here are the difference in features between LifeLock Ultimate Plus and IdentityProtect Ultimate …
| | |
| --- | --- |
| LifeLock Ultimate Plus | IdentityProtect Ultimate |
| $1 Million Service Guarantee | $1 Million Stolen Funds Replacement |
| $1 Million Stolen Funds Replacement | Lost and Stolen Wallet Protection |
| Lost and Stolen Wallet Protection | Black Market Monitoring |
| Black Market Monitoring | SSN Monitoring |
| SSN Monitoring | Address Change Verification |
| Address Change Verification | Bank Account & Credit Card Monitoring |
| Bank Account & Credit Card Monitoring | Bank Account Takeover Alerts |
| Bank Account Takeover Alerts | Court & Criminal Record Scanning |
| Court & Criminal Record Scanning | Social Media Reputation Monitoring |
| Data Breach Notifications | Password Encryption |
| File-Sharing Network Scanning | Reduced Pre-Approved Credit Card Offers |
| Reduced Pre-Approved Credit Card Offers | Tri-Bureau Credit Monitoring Services |
| 24/7 Resolution Services | |
| Tri-Annual, Tri-Bureau Credit Reports | |
| Monthly Credit Score Tracking | |
So here's some of what you would be getting (in detail) …
$1 million service guarantee
In the unlikely event that your identity theft protection company fails you, wouldn't it make sense for them to make it right? That's why many offer a $1 million service guarantee. This covers all different kinds of costs, like what you spend replacing documents and identity cards, traveling to court, dealing with lawyers, and much more.
$1 million stolen fund replacement
If you become an identity theft victim and someone commits identity fraud in the amount of $1 million, could you afford to take liability to clear your name? Clearly not, and that's why identity protection companies usually offer $1 million in stolen fund replacement. This means, with identity theft protection behind you, there's no need to worry about losing any money to identity theft.
Address Change Verification
A big sign of identity theft is a change of address. so if it is ever attempted you will get notified with a verification request. This means you can stop mail from getting forwarded away from you in an attempt to steal more information. It also means you will know if a subtle change gets made to one of your accounts, so you can pick up on the identity theft much sooner than you would've without this feature.
Bank Account and Credit Card Monitoring
Even if you have a security freeze on your credit file, a fraudster could still commit identity fraud through one of your pre-existing accounts. This means there needs to be constant monitoring of your bank accounts and credit cards. If you are lucky, when a fraudster tries to use your credit card they will do a small test transaction that the protection company detects. Either way, the sooner you are alerted the more likely it is the thief will get caught — especially if they cash the stolen card at local stores.
Bank Account Takeover Alert
A common tactic among bank account holders is to set up a new account within your bank account and then to sit and wait to drain yours once your balance is high. They can look back at your bank records and see roughly when you get paid, and then they can jump on the opportunity when the time comes. But if you have bank account takeover alerts, any attempt to modify your bank account will be forwarded your way; this can save you from having your bank account funds stolen, and it's a common way for identity theft to first get detected.
Court / Criminal Record Scanning
It is a common tactic among identity thieves to use an identity theft victim to avoid criminal charges. And further, sometimes drivers guilty of charges like, "driving under the influence," will steal someone's identity to avoid persecution and potential driver's license loss. The same thing happens when a sex offender is caught, as they know they are looking at a hefty sentence if it's not their first offense.
File-Sharing Network Scanning
If your information is getting passed around the Web, there are only a few ways people tend to do it. If the dark web monitoring doesn't detect anything, it's still possible your information has been shared. The next step is to check all the file-sharing networks, to see if there are any files that have been passed around with your information inside. This is an impossible task to pull off manually, so having an automated system for it is wonderful.
Lost or Stolen Wallet Replacement
If you do lose your wallet or have it stolen from you, that's going to cause quite a headache. Chances are you'll be racking your brain for hours about what was stuffed inside at the time it was lost or taken. And then you have another few hours of calling all these companies to inform them about what happened. But if you have this as an identity theft protection feature, the protection company will do all the calling around for you.
Password Encryption
You can download a random password encryption extension but you are putting a lost of trust into the publisher. If you stick with an identity theft protection plan that offers password encryption you will feel much safer. That way, if the password encryption feature causes problems it is the protection companies issue to fix.
Reduced Pre-Approved Credit Card Offers
If you find yourself regularly getting pre-approved mail, it is a good idea to put a stop to it. OptOutPreScreen.com will help you with this manually, but through any quality identity protection plan you won't have to worry about doing the legwork.
Social Media Site Reputation Monitoring
So parents have access to this wonderful tool if they sign up with IdentityProtect, but LifeLock doesn't currently offer such a feature. Basically, it makes sure no one is misusing any of your children's online profile information, images, and so on. You'll also be able to make sure your child's information is kept as safe and private as possible.
Social Security Number Monitoring
If an identity thief has your Social Security Number, there are many things they could do with it. One major example is working and/or filing taxes under your name. The SSA.gov website has a tool you can use to monitor yourself, but having your identity theft protection service provider do it for you is much less of a hassle.
Tri-Bureau Credit Monitoring Services
Simply put, this is the monitoring of your credit report for anything suspicious. Some companies just let you access your report, but the best identity theft protection providers go a step further and monitor it for you. And if you're going to invest in the credit monitoring (since it requires subscribing to a comprehensive plan), you're going to want to get all three of your credit reports monitored. This means "tri-bureau" which implies Equifax, Experian, and TransUnion monitoring.
LifeLock Ultimate Plus vs. IdentityProtect Ultimate, Which Costs Less?
The simplest way to answer this question is to look at what each plan would cost based on the amount of family members that are covered. If you're investing in a family plan, you'll need coverage for mom and dad and all the kids. LifeLock Ultimate Plus runs $29.99 a month per adult and $5.99 per child. IdentityProtect Ultimate costs $27.49 for the whole family. So lets see how the two price out by family size, shall we?
The Cost Breakdown for Family Coverage from LifeLock & IdentityProtect
Covered Family Members
LifeLock Ultimate Plus
IdentityProtect
Mom, Dad and 1 Child

Mom: $29.99

Dad: $29.99

Child 1: $5.99

———-

Total: $65.97 a month

$27.49 a month
Mom, Dad and 2 Children

$65.97 + $5.99


$71.96 a month
$27.49 a month
Mom, Dad and 3 Children

$71.96 + $5.99


$77.95 a month
$27.49 a month
Which Identity Theft Plan Should You Get
When it comes down to it, LifeLock's protection plans are the absolute best in the business today. Still though, many find their services to be a little on the pricey side and when IdentityProtect can protect a family of five for $50 less than LifeLock would, it's okay to consider other options too.
But we ultimately only recommend you consider LifeLock or IdentityProtect. These two have proven the test of time and they have many satisfied customers behind them.