One of the difficulties of being a small business owner is managing your debt. Your business credit cards will drag on your credit score if you don't keep them in tip-top shape. Yet, you can't use your business card strengths to influence a greater level of creditworthiness.
Pro tip: People get too caught up in the idea that they need a business credit card. If you don't have good credit, or if you don't want your business finances to affect your personal creditworthiness, there are other options. Particularly, prepaid business credit cards and many are much better than you think … and even more valuable than most secured business cards!
With that said, we're going to take a look at the very best credit cards for small businesses. This list took a while to compile, but the Elite Personal Finance team has narrowed down the top picks for three separate categories — secured, unsecured and prepaid business cards.
The Best Bad Credit Small Business Cards
There are numerous credit cards that work well for small business owners with bad credit. The only problem is that they typically require a deposit. This means you have to put up collateral in order to be able to borrow funds.
Pro tip: If you're a small business owner, most lenders look at your personal finances and borrowing history to decide your creditworthiness. If you have bad credit already, you should work on that too; your business cards won't really boost your FICO score, but your personal cards will.
With that said, here are some of the best secured cards for small business owners:
The Wells Fargo Business Secured MasterCard
This is probably the best secured card any small business owner could find. It comes with just a $25 annual fee and you can run anywhere from a $500 to a $25,000 credit limit. Further, your APR rate is only Prime + 9.90% and that's 13.90% currently which is pretty low.
It's a secured business card with rewards!
With this card, you get 1% cashback and then every dollar earns you a reward point. You also get 1,000 more points for each month you transact more than $1,000. On the down side, you have to pay $50 annually (the first year is free!) to be eligible for their reward program and to use these points
You also have the option to take a flat 1% cashback rate on all purchases you make. Then you can get another $10 for every month that $1,000 gets transacted. You will have the option to pick this when you first upgrade and gain access to their rewards program.
Another great feature that makes it perfect for small business use is the ability to have up to 10 separate cardholders. You can even design the credit card yourself so it's as tailored towards your business as possible. Plus, the card has no foreign transaction fees so it's also great to use while on business trips.
You also have a minimum of 21 days to pay back any purchase without being charged any interest. So you can keep control of your money flowing in and out.
Extract a little more value out of your reward points!
When it comes time to redeem your points it's best to do so online. Their website has a shop where you can buy gift cards and receive a 10% points boost on your redemption. This means for every $100 worth of points you redeem, you get $10 worth of points added to your account.
The reward points for the Wells Fargo Business Secured Card are valued at approximately one cent each. This means you could get upwards of 2% back on all your purchases. There's no limit to how much you can earn; if you maxed out $25,000 each month, you would get $3,000+ in rewards in a single calendar year.
Also, they let you redeem points for airline reservations, statement credits, and physical goods.
The BBVA Compass Business Secured VISA
This business card gives you a credit limit of 90% of what you secure it with. It starts out with at least a $500 deposit. $25,000 is the maximum credit limit you can have.
Once it is active, you'll be able to start banking in on rewards. If your business uses QuickBooks, you'll also be happy to know you can now get a 30% discount from them.
The card also comes with various protection features. Some of the great features you get include: Travel Accident Insurance, Rental Vehicle Liability Coverage, Purchase Protection, and also Doubled Warranties.
But what makes it great is the rewards program …
Their cashback-style rewards, paid via points, break down like this:
Get 3% back on gas, home renovations and utilities!
Get 2% back on office supplies, restaurants and travel!
Anything else? You still get 1% back!
Get more out of your card through VISA SavingsEdge …
Cardholders gain access to the VISA SavingsEdge program. This allows you to get up to 20% off various purchases, including transactions at certain appliance and auto part stores, gas stations, online retailers, and more. There are also countless hotels that have discounts of around 5% through this program.
Further, if you hold any other BBVA Compass credit cards you can do a 1:1 points transfer and rack all your points up under one card.
There's a $40 annual fee but the introductory year is free.
The Metro VISA Secured Business Card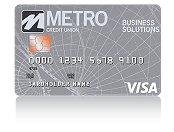 This card can have a $500 to $25,000 credit limit. In your first six months, you'll enjoy a 4.9% APR rate. There's also a $45 annual fee to sustain this card. And, there is a 1% foreign transaction fee.
The great thing about Metro's secured VISA is the fact that it grants you access to the CU rewards program. You can check it all out at CURewards.com and see all the things you can buy with your reward points. You can cash in your points for flights, car rentals, hotel stays, cruise tickets, full vacation packages, merchandise, and so much more.
You won't have an issue getting this card. For a guaranteed approval secured business credit card, it's shocking that their APR rate after the introductory period there's only a 13.9% APR rate.
The First National Bank Secured VISA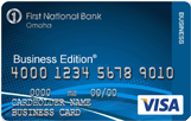 This card lets you set a limit of $2,000 and $100,000 so it's a preferred option for any small business that runs through a lot of expenses each month. You have to give 10% overage when securing the card; if you want a limit of $50,000 then $55,000 would be required for the deposit.
There's only a $39 annual fee. And it has a 18.24% APR rate, but no interest is billed as long as the balance is covered before your due date.
Another cool feature is that you do not need to live in the United States to qualify. If you have an ITIN or SSN you can still apply and use this card freely. However, this only helps a little as there's a 3% foreign transaction charge on anything spent on the card out of the US.
Also, just like the secured BBVA card, you'll get access to the VISA SavingsEdge discount program where you can get upwards of 20% off various reservations and retail purchases.
The Best Unsecured Cards for Small Businesses
Going with an unsecured credit card is a good idea if you can qualify for one. It allows you to have a reserve of funds to borrow from whenever needed. This is perfect for any small business that's looking to expand. If your business finances continue moving upward, there's also room to grow your usability through credit limit increases.
That said, some unsecured business cards are terrible to have. So you need to be very careful when choosing which ones you're willing to use.
Here's a short list of some of the best unsecured small business credit cards available today:
The SimplyCash Plus Business Card from American Express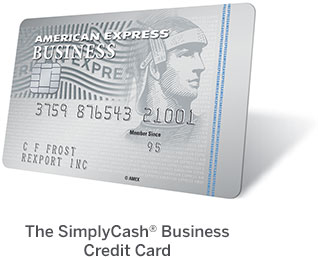 This card comes with no annual fee and it can reward its cardholders as much as 3% to 5% on many purchases. It just became available at the start of 2016 and it's sure to become one of the most popular secured business cards!
So how much can you really score in rewards?
You'll get a 5% return on all transactions at office supply stores and for wireless phone service payments. This will pay out a maximum of $2,500 in rewards (after $50,000 is transacted) before the rate drops to only 1% on all purchases.
Now their 3% cashback category is what makes them especially great …
You'll get 3% back on:
Advertising,

Airlines,

Gas stations,

Hotels

Restaurants,

Shipping

Various hardwares and softwares
There's also a 1% cashback incentive on all other purchases.
It's a truly high-value card for most small businesses …
You will not find any other secured business card which awards 5% or more in cashback rewards. And even more, it will pay that much in rewards for up to $50,000 of transactions annually. This means many small businesses can profit $2,500 a year by using this card … and there's not even any annual fee!
The Starwood Preferred Guest Business Card from American Express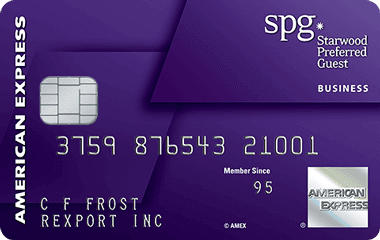 This is an excellent offer if your business transacts at least $20,000 each calendar year and your cardholders have regular domestic business trips.
It comes with a 15.49% to 19.49% APR rate depending on the applicant's creditworthiness.
This card will give you tons of rewards …
You'll get 25,000 Starpoints (valued at 2 to 2.5 cents each) if you transact at least $5,000 with the card in the first three months. This means your sign-up bonus scores you $500 to $625 approximately.
You can also do a 1:1 points transfer to many other airlline and hotel reward programs. Doing point transfers gives you an extra 25% worth of points, so it's well worth your while to cash-out this way!
This card also gives you access to more than a million Boingo hotspot locations (worth about $40 monthly) across the globe. You even get access to Sheraton Club Lounges at no extra cost, which means you'll score free drinks, snacks, and much more.
There's a $95 annual fee but the introductory year is free. Another great thing about itis that there's no foreign transaction fee.
Instead of the VISA SavingsEdge reward program, you have access to American Express's OPEN program. This can get you 5% off at Fedex, 5% back on HP.com orders, discounts on Hertz rental vehicles, and more.
The Chase Ink Plus Business Card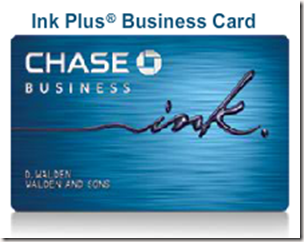 The Ink Plus is a terrific choice for any small business that spends a fair bit every month (or year) as it offers major cashback incentives. It has a $95 annual fee and your creditworthiness will set your interest at anywhere from a 15.49% to 19.49% APR rate.
With it, you'll be able to bank on two categories for up to the first $50,000 you spend in each. The first is the 2% back on hotel stays and gas station purchases, which can max out as a $1,000 reward every year. The second is the 5% back on office supplies, phone, Internet, and TV services, which can max out as $2,500 back every year. After this amount, and for anything else you buy, you'll get 1% back.
You get a great sign-up bonus with the Ink Plus card!
There's a 60,000-point reward once you put at least $5,000 on the card while shopping within the initial three months of having the it. This equates to approximately $750 in rewards, making it a huge incentive to sign up for this card.
The best way to cash out your points is via Chase Ultimate Rewards. You can get car rentals, cruise tickets, flight reservations and hotel stays at a 20% discount here. There's also the option to do a 1:1 point transfer to other reward programs, such as the ones offered by popular airline companies.
What else?
You won't have to worry about foreign transaction fees or facing a higher cost for adding employees as cardholders. You'll also have access to Extended Warranties, Purchase Assurance, Trip Cancellation + Delay Coverage, and Return Protection.
The Capital One Spark Cash for Business Card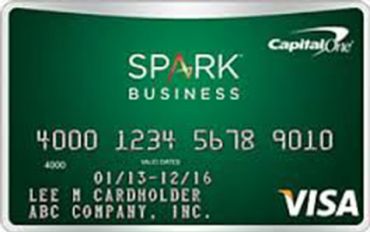 Capital One has a wonderful credit card for small business owners, 'Spark Cash' which is a high-value card for even little-spending businesses.
You can get $500 if you go through $4,500 or more while shopping with it in the initial three months of having it.
You get a flat 2% back on ALL purchases!
This is the best thing about it. You are no longer subject to earning or redeeming points in a certain way. Rather, you can get 'true cashback' as you'll earn a flat rate back on everything you spend.
It comes with a $59 annual fee, but the introductory year is free. There's also no charge for foreign transactions.
The Discover Business Card

Discover's business lets you earn cashback on all your purchases. It's 1% for any non-specialty purchases, 2% back at gas stations, and 5% back at office supply shops.
This is pretty good. Even better, you won't have to worry about an annual fee and you aren't charged anything extra on foreign transactions.
Another great perk is the ability to get more cash back when you cash out your reward points. Through Discover you are able to get upwards of 20% back on anything you purchase with your points. They have endless big-name retailers, like Best Buy and Wal-Mart, so you won't have a problem cashing out your rewards.
Also, it gives you a 0% interest introductory period which lasts for 9 months and then you are subject to an APR rate of 12.99% to 19.99% depending on your credit rating. Keep in mind, Discover will base your creditworthiness based on your personal credit report and score.
A quick note: If you've been with Discover before, you might be wondering why we mentioned that there's no fee for international purchases. They used to charge for this, even on their business card, but Discover dropped this charge completely!
The Best Prepaid Business Cards for Small Businesses
We advocate small businesses to consider prepaid business cards instead of secured. They don't cause a drag to your personal creditworthiness because there's nothing reported to the credit bureaus. While personal prepaid cards usually cost more than secured, there are some great business prepaid offers that have real value.
These are the few that we would recommend …
The PEX VISA Prepaid Card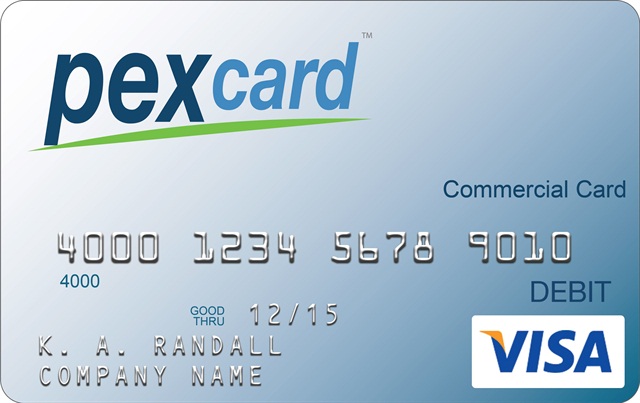 This is perfect for any small business owner that doesn't want all the credit-related headaches. It doesn't have an APR rate because you aren't billed interest. You aren't charged load fees like some inferior prepaid cards.
It costs $7.50 a month for the PEX prepaid business, except in any month where over $50,000 gets spent on the card. As a new member, you will have two months to try the card out for free before deciding whether to keep it. If you do, there's a $49.95 set-up fee. Also, there's a 1.5% foreign transaction fee.
The biggest selling point is the fact that you can control cardholder spending.
If you have employees that are also cardholders, you have the ability to control how and where they use it. For example, you can allow certain cardholders to spend on gas and not restaurants. You can also moderate spending through your mobile device or computer to change to allow temporary purchases by a restricted cardholder. There are two PEX cards — one for cardholders and one for administrators.
When managing cardholder spending capabilities, here are some things you can do:
Set a limit to how much each cardholder can spend in a set time frame,

Prevent spending in certain merchant categories,

Suspend a cardholder or take away their available funds when needed,

Allow cardholders to request more funds or set an automatic top-up,

and

,

Give special spending privileges (with instant funding) temporarily.
That's just a scratch at the surface of what the PEX prepaid business VISA can do. If you're not stuck on the idea of getting a traditional business credit card then this is the perfect alternative!
The Bento for Business MasterCard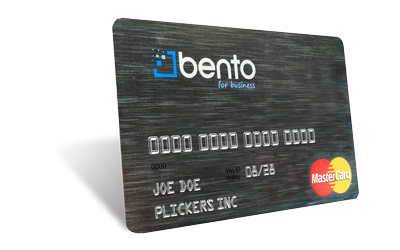 This is the leading competitor to the PEX prepaid. It also offers a free 60-day trial, which means you can make sure you like the card before you start paying for it. After these two months, you will be billed based on the amount of cardholders:
1 or 2 cardholders:

FREE!
3 to 10 cardholders:

$29 a month
11 to 20 cardholders:

$69 a month
Over 20 cardholders:

$149 a month
This is a prepaid MasterCard, which means it can be used in any physical or online store that takes MasterCard payments.
If you apply for this card, you'll get instantly approved as soon as they confirm your business. It will take another two days to confirm your bank account, then 4 to 6 days to upload the funds. The card itself comes in the mail within one to two weeks.
Some other perks include extended warranties, identity theft restoration assistance, purchase protection, and even $250,000 in FDIC-backed insurance.
But, what makes the Bento so great?
It's a terrific offer essentially for the same reason many like the PEX prepaid business card, which is simple: it gives you the ability to control cardholder spending!
With the Bento administrator dashboard, you can set an amount for each cardholder to access through their card. You can control which merchant categories the card gets used for, meaning you can restrict spending at places like restaurants. You can also suspend a cardholder's card instantly, and remotely, if ever needed.
So you can set things up in many ways, but one effective technique is to designate certain cards for particular types of spending. You can make one a 'gas card' and another a 'online purchases card' and so on.
Small Business Credit Card FAQs
Can a small business owner get a credit card with bad credit?
Getting a small business credit card is possible even if you have bad credit. You will be severely limited to which cards you can choose though. The BBVA Compass VISA Business Secured card is your best option right now. You can get about a few hundred dollars back from it each year It has a 16.49% APR, and there's a $40 annual fee but it's free for the introductory year.
What FICO score do you need for a small business credit card?
If you're looking for an unsecured, the qualification requirements for a business card are very similar to what you will need to get an unsecured personal card. In fact, most business cards pull based on your
How do you qualify?
These secured typically just need a deposit of 100% to 110% of the credit limit to get set up. If a credit check is done, it's usually just to determine the APR you will get. If you go for an unsecured credit card, you will need to have a strong credit rating and a quality borrowing history; the amount you can qualify for is based on your personal creditworthiness.
Does your business card affect your FICO score?
Well you have two credit ratings technically as your 'business credit' differs from your personal credit. But the two can be influenced together by a business credit card. The thing is that you won't really see any positive changes to your FICO score from being a good business borrower. If the card you get reports to personal bureaus, you'll also have a higher utilization rate and less of a chance of getting financed personally afterwards.
Secured vs. prepaid, what's the difference?
A secured card is a real credit card that reports to the credit bureaus. It can both hold down your personal credit and lift up your business credit. Meanwhile, prepaid business cards work like credit cards but they don't report to credit bureaus. The most notable of this nature is the PEX VISA Prepaid Card for Businesses, which works anywhere that VISA is accepted.
Which credit bureaus does a secured business card report to?
This is a question you need to answer on a card-by-card level. Some report to business and personal bureaus, while others report to just one of the two. The best unsecured cards report to Dunn & Bradstreet, which is the main credit bureau for businesses.
Does the interest rate of a business card matter?
One more thing to look at is the implications of your APR rate on your business card. Even if you get 5% back on everything you spend, you could end up behind with just a 10% APR rate. The key is to make sure you know the grace period where you can pay off your purchases before interest gets applied. This could run from a few weeks to until your statement due date; if you always pay before interest gets added, you can make sure the card is profitable to use regularly.