So you are looking for a new credit card. If your FICO score is decent, the best option would be a 0% APR cashback rewards credit card. These suckers can pay you more than they pay them!
Why get a 0% APR cashback rewards card?
With this type of credit card, you'll be able to …
Pay off all your debts under one card (aka. free debt consolidation!),
Get cashback rewards while working down your debt,
Receive special rewards and discounts on unique offers, and,
End up with a reasonable APR at the end of the term.
We're going to show you the best 0% APR reward cards with cashback on the market today!
The Best 0% APR Cashback Credit Cards
Here are a few cash back 0% APR credit cards we at Elite Personal Finance strongly recommend!
AMEX Blue Cash Preferred

Up to 6% cashback!
If you are a big shopper, you might see value in paying this card's $95 annual fee. That's because if you do, you are gaining access to an incredible 6% cashback reward … something that has not yet been beat!
With the Blue Cash Preferred Card, you will receive 6% cashback on your first $6,000 in purchases each year. You will also receive 2-3% cashback on department store, gas bar, and grocery store purchases. So just on the first $6,000 you will have earned double the annual fee back; take full advantage of their cashback rewards and shop at 'supermarkets' frequently, as they give 3% back.
This card also has a 0% APR offer. It runs for 12 months and then you get a variable rate between 13.24% and 23.24%, depending on your credit. Therefore, it's the highest-value 0% cashback rewards credit card on the market!
Sign up for American Express's 0% APR Blue Cash Preferred Card Now (60 second approval!)
Also, as a new cardholder you'll receive $150 after spending $1,000 with your card. Free money, yay!
Chase Freedom Unlimited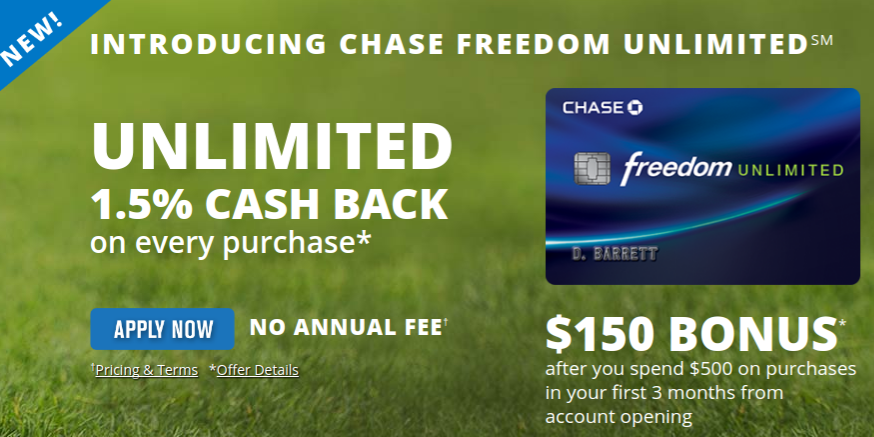 UNLIMITED 1.5% cashback rewards!
If you bank with Chase and you have good credit, the Chase Freedom Unlimited cashback rewards credit card is an absolute no-brainer. The fact that you get universal cashback rewards means there's no more messing around. So many credit card issuers find workarounds to avoid paying what they say they will on your purchases.
Chase cuts out all the crap with this 0% cashback rewards credit card; if you make a purchase, you'll get cashback on that purchase — and at the end of the year, you can easily calculate your total rewards by calculating out 1.5-percent of everything you've spent … it's just that simple!
This card gives you 0% APR for 15 months. You also get 0% balance transfers for your first 15 months. Further, they'll pay you $150 after you use $500 on the card.
The APR will revert to a variable APR of 14.24%, 19.24%, or 23.24% after the no-interest period is up. One hidden perk: Chase offers a 90-day 'price protection' policy which is essentially free money!
Discover it Cashback Match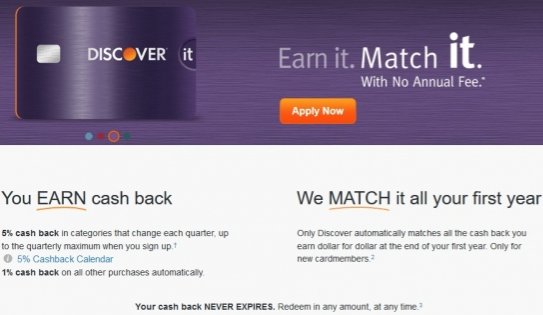 They DOUBLE your cashback earnings!
You can earn as much as $6,000 annually in cashback rewards on the Discover It Cashback Match credit card. They give up to 5% cashback on select purchases; everything you buy will earn you at least a 1% cashback reward.
The great thing is you can cash-out your rewards whenever you want, and they won't suddenly expire if you take your good ol' time. Then at the end of your first year with them, they'll calculate your cashback rewards and MATCH IT to effectively double your earnings. More free money!
This card features a 0% APR period of 12 months, and it extends to balance transfers too. After the first year is up you will get a variable APR of between 11.24% and 23.24% based on your credit. You'll continue to enjoy the $0 annual fee while collecting sizable cashback rewards. Plus, you'll still have price protection.
What makes this card even better is the fact that you could get as low as a 11.24% APR after the 0% interest period is up. This is much more appealing than finding out your interest rate starts at 14.24% at least. Still, the upper-end is intact and you could find yourself with a high interest rate if your credit isn't the best after your zero-interest period ends.
Barclay CashForward World MasterCard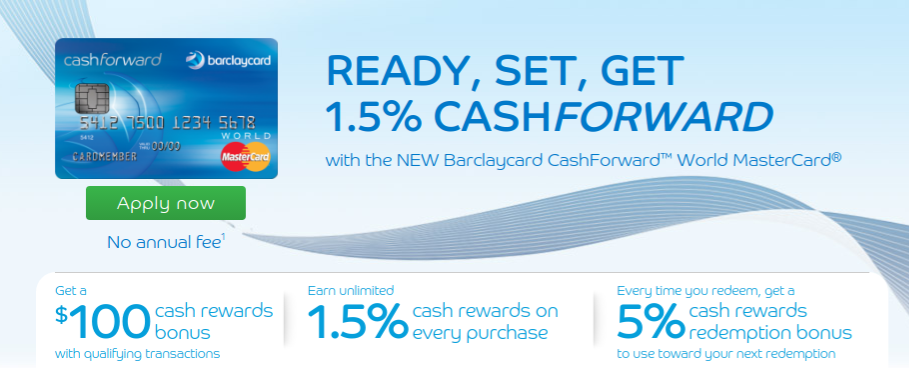 Flat, unlimited 1.5% cashback rewards!
If you want to simplify your cashback reward process, go for the highest flat cashback reward you can get. That could be the Barclay CashForward card — it comes with a flat 1.5% cashback payout. This is great as you will receive that much back on any purchase you make, regardless of whether it's for food or gas, or anything else you could imagine.
They don't have as many other lucrative perks, but the higher overall cashback reward will be worth it. You will also enjoy a $100 bonus once you spend $500. Furthermore, you'll gain access to your FICO score which is a huge plus.
With this card, you will get 12 months of 0% APR before they run you on a variable rate starting at 15.24%, 19.24%, or 23.24%, based on your credit at the time. The 0% APR offer also covers balance transfers in the first year.
Furthermore, you get all the perks from it being a World MasterCard card — this includes price protection, extended warranties, their proprietary Airport Concierge service, and much more.
PenFed Cash Rewards Plus VISA

Up to 5% UNLIMITED cashback on gas!
If you are a frequent driver, this is the credit card for you. The high cash It offers 5% cashback on gas purchases, making it the best gas rewards credit card on the market today. You are not even capped at any spending amount — so you can literally get 5% of ALL money spent on gas back every single year!
The only hard requirement is that you must sustain a Pentagon Federal Credit Union account; if you aren't already a member, this can be accomplished by contributing a minimum of $20 to the Voice for America's Troops. Those that are employees of the Pentagon will already have an active account.
This card only gives 0% APR on balance transfers for the first year. You will be calculated an interest rate between 10.24% and 17.99% APR, based on your credit. These rates apply for both the Standard and the Plus card.
Most importantly, you are not capped at any cashback earning level. As long as you are a Standard cardholder you will get 3% cashback on all gas purchases; if you are a Plus cardholder, you will always get 5% cashback AND no annual fees ever.
How to qualify for the Plus card: all you have to do is maintain a balance of at least $250 in a checking account with them, or have an open credit account — whether it be an equity loan, installment loan, mortgage, or anything you can imagine.
But if you are okay with dropping the 0% APR on purchases, check out some reviews of the best cashback reward credit cards in general. You will find eliminating the zero-percent interest requirement will open the doors to many new, rewarding card features and offers. 
0% APR Credit Cards with Cashback FAQs
What do you need to qualify for a 0% APR cashback card?
Typically, you will need a credit score of around 650 to qualify for a 0% APR credit card. When you add the cashback incentive it's even more important to have good credit — many will only approve if your FICO score is in the 690 to 719 or higher range.
If your credit rating is a little lower, do not get discouraged. There are many 0% APR credit cards that take on weaker borrowers. If you do have a low score, but you bank with Chase, try applying for Chase Slate as its known to have a high approval rate.  You won't get cashback rewards, but at least you'll get the 0% interest period still.
Even the Chase Freedom card has its issues — particularly, you are subject to a 5% balance transfer fee after the 60-day period ends. The free offer for balance transfers also only covers $15,000 worth of them. And even if you have amazing credit, you'll have at least a 13.24% APR when all is said and done.
If your FICO score is excellent, you can qualify for a 0% APR credit card WITH cash back rewards. And you might even get a great APR when the term is done — but don't expect a whole lot of flexibility on this metric.
What FICO score is needed for a zero APR credit card?
It's not just about your credit score; if you have a quality relationship with your bank, or solid proof of income, you might be able to qualify for a card you thought was too hard to get. It's true the banks and card issuers set hard limits for FICO scores to allow, but they are generally more flexible than one would think.
For example, you are probably surprised to have learned that a 0% APR credit card isn't just for people with excellent credit. Nowadays, credit card issuers value the cost of user-acquisition. If they are going to pay $5 to $10 for every click on their ad, why not throw away the annual fee and give potential cardholders some incentives to join?
So even if you have poor credit, you might be able to find a credit card issuer that will give you the 0% APR terms you want. This might be at the cost of a weaker APR after the term is over, though, so you need to be careful when comparing fine prints between cards.
Each of the credit cards we listed have respectable reviews on the Internet. They are also applied for frequently and many Americans currently use each of these cards. If you're a decent borrower, you shouldn't have trouble getting approved for any of these cards.
What's the highest amount of cashback you can get?
The most you will find is a 6% cashback reward on any single cashback credit card in 2016. This is offered by the Blue Cash Preferred card under American Express. You can apply for it here and get approved within 60 seconds of submitting your application.
With that said, you have to remember that these sky-high cashback rewards are not sustainable. They will only run on the first $x,xxx spent and then the rate will drop. Further, most credit card issuers will limit the high-rate rewards to certain types of purchases. This can severely decrease what you earn from the card, and if there's an annual fee it could prevent it from being a truly valuable card to have.
Which type of cashback rewards card gives you the most back?
This all depends on what type of spending you do and where you do it. It's best to find a cashback rewards card that pays more for the type of shopping you normally do.
We broke this apart pretty well in our piece on the best rewards credit cards — check out this section to learn more: The Types of Credit Card Reward Programs … this will not only tell you which types of rewards exist, but which specific cards are the best for each category!
How long does the 0% no interest period last?
Most legitimate cashback cards with 0% interest will run the interest-free period for 12 to 18 months. Some will run for shorter terms, and the least desirable ones will just offer 0% cashback on your first 30 to 90 days of purchases. If you want to make the most of your 0% APR card, you'll want to make sure it also offers 0% on balance transfers.
Also, if you're someone who does balance transfers regularly you need to consider what they will cost when the no-interest period is over. The same goes for the foreign transaction fee; if you're a regular traveler, a 3% foreign transaction charge would be an intense addition to what you pay once the interest starts charging to your card.
Conclusion
There are many hot cashback rewards credit cards on the market. If you still have some debt behind you, though, it might be better to look for a 0% APR cashback rewards card. These make it easy for you to pay off your debt without losing your shirt to accrued interest costs.
In any event, with a 0% APR cashback credit card you know you are making money — not losing it — especially in the year or so when the zero-interest rate is still intact.