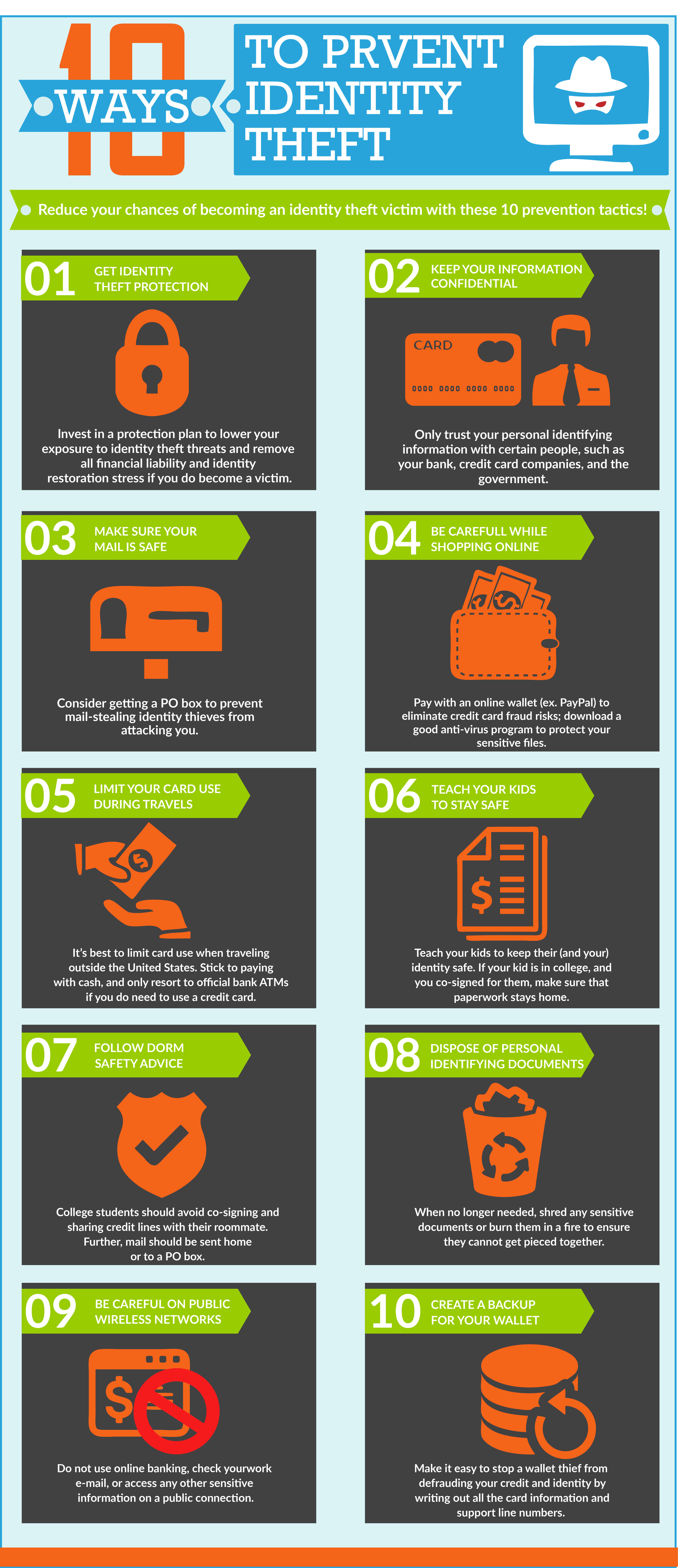 Important! These are only basic tips on how to prevent identity theft. For those who are interested, please go to our advanced guide: 100 Ways to Prevent Identity Theft. This is one of the most advanced articles online.
Reduce your chances of becoming an identity theft victim with these 10 prevention tactics!
1) Get identity theft protection
Invest in a protection plan to lower your exposure to identity theft threats and remove all financial liability and identity restoration stress if you do become a victim.
2) Keep your information confidential
Only trust your personal identifying information with certain people, such as your bank, credit card companies, and the government.
3) Make sure your mail is safe
Consider getting a PO box to prevent mail-stealing identity thieves from attacking you.
4) Be careful when shopping online
Pay with an online wallet (ex. PayPal) to eliminate credit card fraud risks; download a good anti-virus program to protect your sensitive files.
5) Limit your card use during travels
It's best to limit card use when traveling outside the United States. Stick to paying with cash, and only resort to official bank ATMs if you do need to use a credit card.
6) Teach your kids to stay safe
Teach your kids to keep their (and your) identity safe. If your kid is in college, and you co-signed for them, make sure that paperwork stays home.
7) Follow dorm safety advice
College students should avoid co-signing and sharing credit lines with their roommate. Further, mail should be sent home or to a PO box.
8) Dispose of personal identifying documents
When no longer needed, shred any sensitive documents or burn them in a fire to ensure they cannot get pieced together.
9) Be careful on public wireless networks
Do not use online banking, check your work e-mail, or access any other sensitive information on a public connection.
10) Create a 'backup' of your wallet
Make it easy to stop a wallet thief from defrauding your credit and identity by writing out all the card information and support line numbers.