You must have heard or read it so many times, again and again on many websites and blogs: Beware of cybercrime. And indeed, you should be extremely careful when it comes to this type of crime. Hackers and fraudsters are very smart and innovative, always finding new ways to steal your identity or hack your computer with the goal of stealing your money. There are many types of cybercrime, such as identity theft, identity fraud, phishing, vishing, smishing, and hackers can contact you through email, text message, phone call or any other means of communication.
The number of people around the world who fall victim to these types of fraud increases each year. However, the United States is undoubtedly the leader in cybercrime, and this is particularly present in urban areas across the country.
Recent IRS/FBI ransomware scam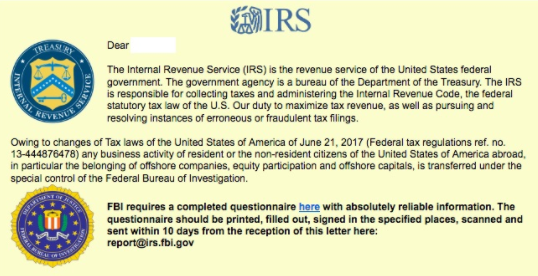 Every once in a while, a new attempt at fraud or other types of cybercrime is discovered, but unfortunately, often only after people have already been exposed to it. One such example is a recent scam that uses the emblems of the Internal Revenue Service and Federal Bureau of Investigation. This is an email ransomware scam which tries to take computer data hostage by providing a link to download an FBI questionnaire. When a person clicks on the 'download' link, they download a malware on their computer, which will deny them access to data on their personal computer until they pay a certain amount of money to the hackers.
As you can see, this is a slightly modified phishing attempt. By definition, phishing is an attempt at stealing or compromising one' sensitive information by pretending to be a representative of an authentic company or service.
This only reminds us the of the omnipresent danger that such scams pose to people across the US. In fact, such scams have steadily increased during the past years. Many scammers call people on the phone pretending to be representatives of the IRS, insisting that there will be serious consequences unless they immediately pay. In addition, there are fraudsters who try to defraud people by convincing them to file false claims for phony tax credits, nonexistent rebates and refunds based on social security benefits. These attempts are sometimes executed with the help of flyers and brochures that advertise free money from IRS but with scarce documentation.
IRS warns that this is not how they communicate with people, i.e. they do not threaten people under any circumstances. They also don't discuss any personal tax issues through email, phone or social media. If you are contacted by someone who is supposedly from IRS or FBI, make sure to double check before doing anything that might cost you money and nerves. You can always go to their websites and report any suspicious activity that you encounter.
In addition, IRS has private collection firms that might contact you about your tax on their behalf. Of course, this is where fraudsters saw a great opportunity. You can be sure that you are contacted by a legitimate collector if you check the following steps:
– You will always receive a letter from the IRS first, which will provide the information about the collection firm.
– The company will send you a letter after which they will call you on behalf of the IRS. In those two letters you will find the information that will help you verify that this is a legitimate IRS collector and stay protected. Keep those letters.
– When paying, the only two possible recipients are the IRS or the US Treasury. Also, you won't be asked to pay with a gift card or similar prepaid debit cards.
– The only situation when you will be contacted by a collection firm is if you have tax debt unpaid for a few years and have already been contacted by the IRS about it.
Tips to recognize and avoid phishing
Phishing is one of the most common types of cybercrime. However, there are some dead giveaways that can help you recognize a phishing attempt:
– You are being contacted by a 'high-authority, credible company', but the email of the sender is different than what the company usually uses;
– There are shortened or masked hyperlinks in the email message;
– There is an attachment in the email without an obvious reason;
– There are threats of urgency and requests to change your personal information;
– The email is written with poor grammar and spelling;
– You are being contacted on the phone without being informed about the phone call beforehand;
– You have received an offer that is too good to be true.
Even though phishing presents a great risk, you can improve your security by applying the following advice:
– Use filters on your web browser and email account which will help you decrease the number of messages received from fraudsters.
– Try to recognize a phishing attempt by paying attention to the sender and subject line. If it seems suspicious, simply delete it, don't open it and definitely don't click on the link it provides.
– Report the message/phone call to your bank, identity theft protection company or even FBI and IRS if the message comes from 'them'.
– Be careful about sharing your sensitive personal information. Try not to disclose your information such as SSN, bank account number, etc. either online or on the phone.
Conclusion
Hackers have gone so far in their endeavors to steal people's money that they impersonate such credible services as FBI and IRS are. Luckily, services such as these always detect such attempts soon after they have been started and warn their consumers about them. In addition, there is a lot of information online about this type of fraud where you can get very useful information on phishing and cybercrime in general. We hope that this article will be of great help to you, your family and friends. Please share any useful information with your loved ones because that is the best way to protect them. To prevent is to stop. To prevent is to protect.