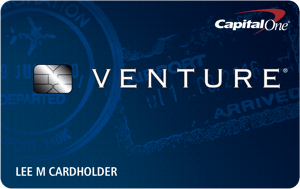 Not every credit card is worth applying for. There are some cards that companies release just to remain active on the market. As the matter of fact, you will find that most credit cards are nothing to write home about, especially if you prefer using cash to buy things.
However, from time to time there comes a card that is worth both your time and money ‒ the time you take to decide if it is the right card for you and the money you pay for its fees.
One of these cards is the Capital One Venture Rewards Credit card. We are going to review it today and help you decide whether or not to get it. This way, we will help you make the decision faster and save you one of those two things ‒ time. That's the least we can do for you.
Quick Overview
$95 annual fee (waived during the first year)
49% – 24.49% variable APR
50,000 miles sign-up bonus (after you spend $3,000 on transactions within the first three months of opening the account)
Eligible for all airlines and hotels, anytime
Unlimited 2x per dollar on every purchase and 10x miles on hotels
No foreign transaction fees
Who Is This Card For?
As the name of the credit card suggests, it is designed for those who like to venture into the new and unknown ‒ for travelers.
If you are a frequent traveler or flyer, this card may be exactly what you are looking for. It offers a huge sign-up bonus and the best ongoing rewards on the market.
It is very useful for all the people who like to keep it simple because it lets you redeem your points without having to overthink all those travel loyalty programs and chase award space.
Benefits of Capital One Venture Rewards Credit Card
This credit card earns you travel rewards without tying you to a specific airline or hotel brand. Instead, you earn two miles per each dollar you spend. But you can also redeem the miles for statement credit against travel purchases. In case you want to redeem miles for travel, each mile is worth a cent.
This card comes with a huge sign-up bonus of 50,000 miles once you have spent $3,000 for purchases within the first three months of the account opening. The card has a fixed value of 1 cent per mile, which means that those 50,000 miles are worth $500 in travel.
Most travel cards give you one mile per dollar spent on most purchases and two miles per dollar on spent on travel purchases. However, Capital One Venture Rewards gives you double miles ‒ on everything.
But wait, for now comes the best part. Through January 2020, this card will earn you ten miles per every dollar spent on booking and paying for hotels at Hotels.com through a special link. This return is definitely one of the best bonuses you can get on hotel purchases.
In addition, participating in the loyalty program offered by Hotels.com will enable you to earn another 10% back on hotel purchases made on this website. Combined with ten miles earned per each dollar, this gives you a 20% reward on all hotel purchases made at Hotels.com with this card.
There are two ways to redeem miles for travel:
You can search Capital One travel center for the best deals on rental cars, hotels, flights or all-inclusive vacation packages. When you find your favorite deal, pay for it upfront with your accumulated miles.
The other option is to book your travel somewhere else using the Capital One Purchase Eraser to get a statement credit for the cost.
You can also redeem your miles for statement credit. Once you have accumulated enough miles and you want to spend them, simply sign into your Venture Rewards online account and redeem them for one cent apiece as a statement credit against any eligible travel purchase that you have made with this card in the past ninety days. This could be a hotel booking, a car rental or a flight.
Also, there is no minimum amount required to redeem and Venture Rewards miles don't expire as long as you have the account. This means that you can redeem as few or as many miles as you want.
With the Capital One Venture Rewards credit card, you can travel wherever you want whenever you want.
You can use it to book and pay for flights with any airline and book any hotel. In addition, you can travel whenever you want. There are no blackout dates, so nobody is going to limit you even if you want to fly during the peak holiday season.
If you are a regular traveler, you are going to love the fact that this card offers travel accident insurance up to $250,000, lost luggage reimbursement up to $3,000, as well as secondary auto rental coverage.
Also, you will get extended warranty protection on everyday purchases. This feature will extend the original warranty up to one year for warranties of three years or less, with a maximum of $10,000 per claim and $50,000 per cardholder. In addition, purchase security will replace, repair or reimburse you for purchases in case of damage or theft within ninety days of the purchase, up to $500 per claim and $50,000 per cardholder.
When it comes to security features, Venture Rewards offers security and account alerts, card lock option, fraud coverage, Second Look and Eno options, as well as SureSwipe/Touch ID.
Finally, all of you international travelers will love the fact that the Venture Rewards card doesn't have any foreign transaction fees. This allows you to use the card without any extra charges for using it outside of the US.
What Could Be Improved
Even though the fee is waived for the first year, each next year you will have to pay $95 for using the card. It is not uncommon for the best credit cards to have an annual fee, but having to pay almost $100 a year to use a card is not something to ignore.
The fee for this card used to be significantly lower, but Capital One decided to raise it in 2017 in order to 'raise' it to the standard set by other similar cards.
Apart from having a relatively high annual fee, this credit card also has high APR. However, we can close our eyes to the high annual fee because there is no fee within the first year of opening the account.
But nothing eases the pain inflicted by the fact that there is no introductory APR. Some other cards offer low introductory APR or no APR at all for purchases and balance transfers during the first six to eighteen months. But not this one.
In case you decide to use your miles for a statement credit for non-travel purchases or cash back, they are worth only half as much as if you redeemed them for travel miles. The strength of this card lies in its travel benefits, so it's better to use it for travel.
If you like to 'hack' your cards (transfer your miles to a travel partner or use other loopholes in order to multiply your rewards), this is not the card for you. This card is very transparent, so what you see is what you get.
Pros and Cons
Pros
Sign-up bonus
High rewards rate
Flexible rewards redemption
No foreign transaction fee
Cons
High annual fee
Requires good or excellent credit
Low redemption value for cash-back option
No travel partners to earn additional rewards
Bottom Line
Are you a travel junkie? Or maybe you travel often for business? If you spend a lot of time on planes and in hotels, this card is definitely something you should consider. It is probably the best travel credit card along with the Chase Sapphire Preferred and a couple others.
The 50,000 miles sign-up bonus is a great way to attract new cardholders. However, Capital One Venture Rewards credit card keeps giving you fantastic bonuses as long as your account is open. You can use it to book and pay for any hotel or airline anytime.
Also, the fantastic 2-miles-per-dollar per purchase and 10-miles-per-hotel on hotel bookings will make all of you travelers want to have this card in your wallet. If that is not enough, then we can add the fact that the Venture Rewards charges no extra fees on foreign transactions.
On the other hand, the high annual fee and no introductory APR leave some space for thinking.
In the end, of course, it is up to you. Consider everything carefully and see if this is really the best option for you. If you ask us, we can say with certainty that this card is definitely one of the best travel cards on the market.