Each time a new credit card appears, consumers compete to be the first in line to apply for it. They want to get the card and try it out before anyone else, especially if their credit and overall financial situation makes them eligible for the card.
But wouldn't it be better if you could read everything about the card before actually applying for it?
That is why we write reviews of credit cards and other financial services and products. When you read our review of this new credit card by Chase, you will know what exactly this card offers, what are its advantages and drawbacks and whether you are eligible for it.
Quick Overview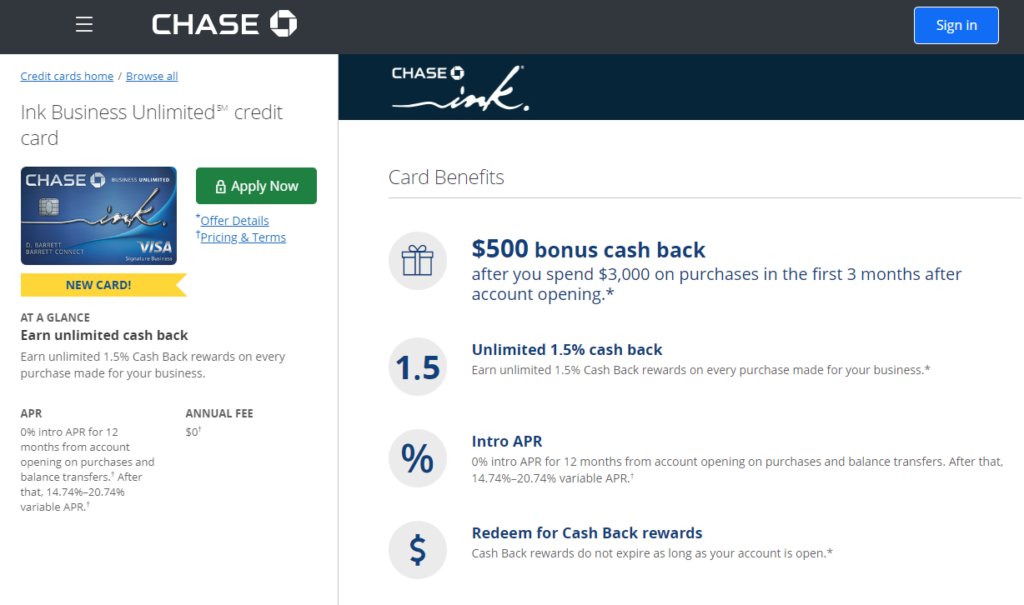 First, take a quick look at the list of Ink Business Ultimate Card features. That way, you will get an idea of what this card offers without having to read the entire article.
$500 bonus cash back (if you spend $3,000 in the first three months after the opening of the account)
Unlimited 1.5% cash back rewards on each purchase made for your business
0% APR ‒ this applies to purchases and balance transfers made within the first twelve months of account opening
Redeem for cash back rewards as long as your account is open
Who Should Apply for This Card?
This card is primarily targeted at small business owners, so bear in mind that it is not eligible for everyone. However, it is not that hard to get approved since there is a great number of occupations under this category, such as freelancing and other sole proprietor-type work.
Business Unlimited works best when paired. You can pair it with one of the Ultimate Rewards cards and another business rewards credit card to get the best results. It might be best to avoid this card in case you have neither of the other two mentioned cards.
This card, which was recently launched by Chase, has no bonus categories, so it suits great everyone who wants to combine it with other cards for non-bonus spending. You can combine it with a card that offers bonus categories to help your business for travel, office supplies, dining, and so on.
This card has a 0% introductory APR and doesn't charge an annual fee. Therefore, it is the perfect fit for start-ups or other businesses which don't have a regular cash flow. The introductory 0% APR lasts for 12 months after you open the account and it applies to purchases and balance transfers. After this promotional period, the variable APR will range from 14.74% to 20.74%, so make sure to pay off all balances while the promo period lasts.
Sign-up Bonus
A $500 bonus offered by the Business Unlimited card looks really great.
If you spend at least $3,000 in the first three months after account opening, you will be eligible for this bonus. However, if you decide to convert this cash to Ultimate Rewards points, you can earn much more.
For example, there is an option to turn your bonus into 50,000 Ultimate Rewards points. This will more than double your cash if you choose to pair this card with a card that earns UR points such as the Chase Sapphire Reserve or the Chase Sapphire Preferred Card. If you do this, you can get as much as $1,050 for your 50,000 points.
Cash Back
The Ink Business Unlimited gives you 1.5% cash back for all your purchases. This is both the upside and the downside of this card.
What do we mean by this?
Well, if you decide to buy airfare using this credit card, you will lose the opportunity to earn five times as much by using another card like the American Express Platinum Card. Also, in case you use this card to buy internet service or office supplies, you will lose 5% cash back on the first $25,000 for not using the Ink Business Cash card for these and similar purchases.
Therefore, don't use Business Unlimited card for purchases that could earn you more money if paid with other cards.
Redeem your Rewards
You can redeem your rewards in a few ways: as cash back, gift cards, for travel or for Amazon points.
If you choose to redeem your rewards for cash, you can get the money as an account statement credit or through an electronic deposit into an eligible US savings or checking account. The first option would reduce your card balance but not the minimum monthly payment. Each point redeemed for travel, gift cards or cash is worth one cent.
If you move your points to another Chase Ultimate Rewards points card (Ink Business Preferred, Chase Sapphire Reserve or Chase Sapphire Preferred), you can increase your redemption rate to an effective return of 3.15%. If you decide to do this, bear in mind that the other card will need to be registered to you, your household member or the owner of the company.
Once your points are moved over to an Ultimate Rewards earning account, you will be able to book travel directly through the Chase portal, which will earn you up to 1.5 cents per point. Another option is to transfer the points to one of thirteen travel partners. If you choose your travel partner wisely, you can get much more value per point ‒ 2.1 cents or even 6 cents. You can redeem for premium vacation packages, including flights and cruises, without blackout dates or restrictions on airfare booked through Chase Ultimate Rewards.
If you want to use your points to shop at Amazon, this is an option too. It is very easy to redeem your points and use them to pay for an entire Amazon order or a part of it, including shipping and tax.
Finally, you can use your points to get gift cards from iTunes, Home Depot, Staples or Amazon. There are more than seventy gift card options, so making a choice will probably take some time.
What Are the Perks of the Ink Business Unlimited Card?
If you like the benefits offered by Ink Business Cash card, you will like the benefits of this card as well.
Employee cards at no additional cost
This feature allows you to set and change individual spending limits on employee cards. Also, if you use this option, you can earn even more rewards from your employees' purchases.
However, note that your employees will have equal charging privileges and will be authorized users if they are allowed to use the account. Therefore, you might want to set individual spending limits before you let your employees use their cards.
Purchase protection will cover all new purchases that you make for up to 120 days. This applies to protection against damage or theft worth up to $10,000 per claim or $50,000 per account.
This extends the time period of a warranty issued by a US manufacturer by an additional year on eligible warranties of up to three years.
Auto rental collision damage waiver
If you use Ink Business Unlimited to rent a car for business, you are able to decline the collision insurance of the rental car company. The card will cover the amount up to the cash value of the vehicle if a collision or car theft occur. The waiver applies before your own car insurance policy and it is valid on the majority of rentals you make both in the US and abroad.
Pros and Cons
Take a look at the list of positive and negative sides of the Ink Business Unlimited card.
Pros
Can you imagine a credit card without an annual fee? Well, now you have found it.
Get this card and earn 1.5% cash back on all your purchases.
If you need help with getting your business off the ground, you will love the fact that this card offers a 0% APR within the first year of account opening.
This card lets you use it with the Ink Business Preferred Credit Card to earn three points per dollar or 3% cash back in some business categories, as well as 1.5% cash back on all other purchases.
Also, you can use this card along with other cards to earn different types of rewards.
This goes both for the value of rewards that you can earn and the time limit because rewards earned with this card do not expire. Also, there are no blackout dates on travel rewards.
Various redemption options
This credit card offers a few ways to redeem your points such as travel, gift cards, Amazon purchases, statement credits, deposit into checking or savings account, and so on.
Cons
If you want to earn more than one cent per point, you will have to transfer points to a premium Ultimate Rewards card.
You need to earn at least 2,000 points to redeem.
Not good for spending in various categories
If you spend a lot of money in a particular category (e.g. travel, office supplies), this card might not be the best option for you.
However, if you are a business owner who regularly spends money in a variety of categories, take a shot with this credit card.
If you want to use this card, you need to have a good or excellent credit score.
Bottom Line
If you are a business owner or freelancer, the new Ink Business Unlimited Credit Card by Chase might be the perfect solution for you.
It has a number of great benefits that can help you improve your business: no APR during the first year, 1.5% cash back, $500 welcome bonus and no limit on rewards as long as your account is open.
After reading this review, you know a lot about this credit card for small-business owners. Weigh out its pros and cons and decide if it is the right card for you.
If it is, run to the nearest Chase branch. Who knows, you might be the first to get it.