Credit Sesame is a credit monitoring service with over 5.5 million members. It's users enjoy free credit reports, scores, and tools. Members also have access to the Credit Sesame app (Android | iOS), which is an all-in-one debt management tool. With so much to offer, it makes sense why Americans trust Credit Sesame with their credit monitoring needs.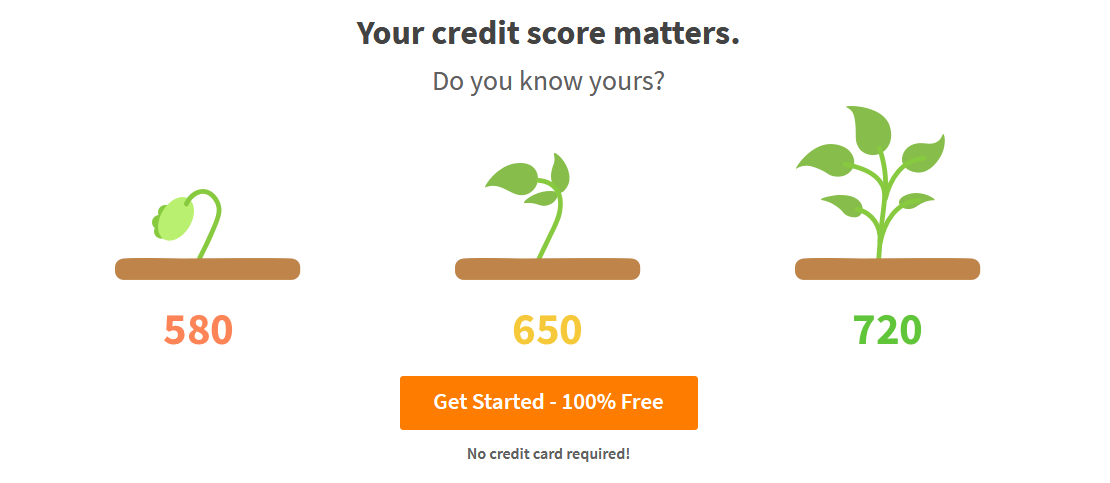 (no catch)
Understandably, there many credit monitoring services to choose from and it's hard to know which is the best. Credit Karma and Credit Sesame are the two that always get rave reviews. Both offer free services, but Credit Karma does cater to a larger audience. Reviews for each of these service providers are strong, so you will be happy regardless of which you choose. But, it's still a good idea to give Credit Sesame a chance before turning the other way.
Do Not Just Read One Credit Sesame Review!
Have you ever read a Credit Sesame review?
If so, you might be aware of some of what this service has to offer. But, many do not truly know what this, or any credit monitoring service can do for them. Even worse, there are countless uneducated Internet surfers that scream "scam" at every credit monitoring service they see.
But, whatever you have read in a user-submitted Credit Sesame review before is not the end-all, be-all. These services are very flexible, and they can benefit borrowers a lot when used right. Yet, from the outside looking in, it's easy to dismiss these services before giving them a chance.
If you are thinking about signing up with Credit Sesame, here are 10 things you will want to know!
1. Is Credit Sesame Safe?
Nothing about Credit Sesame makes it a scam, or unsafe!
When you see titles like "Credit Sesame Scam – Read This Before Signing Up!" it's just unethical people trying to rank their websites for specific keyword strings. In that example, their goal would be to rank high, and to entice clicks on their link. They do this while targeting people search to find out if Credit Sesame is trustworthy. You can fast-forward a bit of reading, and you will notice that the pessimistic title leads to a positive conclusion.
Credit Sesame arrived in 2010, thanks to Adrian A. Nazari, who also co-founded Financial Crossing, Inc. back in 2005. Financial Crossing serves as a debt management solution for financial institutions and professionals. Both businesses have helped others save many billions of dollars.
Even in Credit Sesame's first two years of operation, they managed to reach a staggering $35 billion in active user loans. Now, in 2015, that number exceeds $128 billion. And, with over $44 million in funding from venture capitalists and other investors, you can bet that things are ran right.
2. Is Credit Sesame Free?
Yes, Credit sesame does offer it's credit monitoring services at no cost to you!
When you log in to Credit Sesame as a free user, you have access to a credit score from TransUnion once a month. The credit score you receive is the Experian National Equivalency Score. It's a "FAKO" score, meaning it's not the FICO score. While some lenders use this formula, it's not used by the majority. That said, FAKO scores are always used by credit monitoring services. The fluctuations you see in your FAKO score are comparable in your FICO score.
You do not need a credit card to sign up, and the monthly reports make it easy to track your credit. But, the paid upgrade option will cost you money, and you must give up payment info. You get access to effective tools for rebuilding, restoring, and tracking your credit. Their tools make it possible to examine your current loans. With their bank-level analytics, if there's a way to save money, it will get shown to you. Plus, you will get shown real estate financing options that are custom to your credit file.
3. Do You Want to Upgrade?
Yes, Credit Sesame really does provide free services to it's users. But, they also offer an "advanced package" for $9.95 a month. With this, you can get your Credit Sesame score every single day. This is perfect for anyone who wants to know the exact 'cause and effect' of their credit actions. And, the monthly credit report download gives you enough info to continue pushing your credit rating up.
If you have interest in identity theft protection, you can also go for their "platinum protection" plan. This gives both credit monitoring and identity theft protection. This only costs $14.95 a month, which is around $10 cheaper than what most competitors charge for similar services. Plus, it comes with $1 million in identity theft insurance and much, much more.
While an upgraded membership is not necessary, it does have many great benefits. Identity theft protection is awesome, but extra credit monitoring will give you the most control. Plus, the ability to view a new Credit Sesame score every single day is worth it's weight in gold on it's own. Combine the other great features that upgraded members get, and you will not regret paying the small amount each month.
4. How Much Identity Theft Protection?
Paying to upgrade your membership is a good idea if you want to take your monitoring controls to the next level. It's not needed, though, as you still get some identity theft protection for free. In fact, you get up to $50,000 in coverage in the event of an identity theft incident.
This amount applies towards your identity restoration costs, not the losses from the theft. But, identity theft victims also receive help from identity restoration experts. So, the entire process of repairing your credit is much easier to manage.
Credit Sesame will cover the following types of expenses:
Copies of your credit report
Lost wages
Notary & certified mail
Phone calls
There are other expenses that might get covered, but you need to upgrade to maximize your coverage.
The identity restoration specialists are the biggest help, as they make it easy to fix your identity. Before you know it, you will be back on track towards getting the great credit score you have always wanted. Credit Sesame's experts are always just a phone call away, so you know you have help every step of the way.
5. How Much Can You Save?
Credit Sesame ran a small study not too long ago. They parsed a bit of user data and analyzed the financing opportunities available to homeowners. Their findings showed that homeowners who could refinance were missing out on over $5,600 a year in savings. This is just one of many cases where Credit Sesame helps you save money. Watch out for any alerts, as it's a sophisticated service that tends to point out the beneficial alternatives.
Of course, much of the savings generated by Credit Sesame get realized once you make a financing change. It comes from refinancing current debts, or opening up new credit lines. You might find that you can refinance your vehicle and lower your monthly payment by $80. Whatever it is, Credit Sesame will show you where you can save the most, and you can see how these changes affect your credit.
The constant search for better deals on loans makes it an impeccable tool. There will not ever be a time when you are unable to figure out where you can finance the best. Credit Sesame ties your credit report information in to decide which financing options will work best for you. If you are building your credit, this is perfect!
6. How Can Credit Impact Your Life?
Credit Sesame offers a wicked "What If" tool that analyzes your life possibilities. It shows you how things could be, supposing you had a different credit score and debt load. You can see how many new opportunities open up when you come across as a better borrower. It also helps you to get an idea on where you will be once you start seeing some results.
They also show how you can save money on your current debts. You could put that extra money towards your debts. Thus, you can re-calculate and see the effects of lowering your loan costs by the recommendations of Credit Sesame. It's not 100% accurate, but you do get a good idea on the directional change, and overall impact of your credit changes.
7. Did Your Identity Get Stolen?
Identity theft is no longer a worry, thanks to the identity theft protection program offered by Credit Sesame. But, it's always good if you can catch the problem as soon as it surfaces. The monthly credit reports are a great way for you to catch onto something suspicious. You will also receive credit fraud and identity theft alerts if anything raises a red flag on your credit profile.
The identity theft experts are available 24/7 by phone, so you can resolve the issue fast. If you do become a victim, contact them right away and follow all necessary steps to secure your identity. By catching the culprit in the first few attempts, you will stand a much lower chance of paying anything out of pocket. With the identity theft insurance from Credit Sesame, you will not have to worry about any costs at all.
If any suspicious activity occurs in your name, you will receive an alert right away. If things seem funny, it's a good idea to put a credit freeze on your file. This prevents any new credit actions from taking place without prior authorization from you. Until you get your identity back in order, this will prevent you from getting victimized by an identity thief.
8. Do You Have to Maintain Anything?
Credit Sesame gives you more insight than you could ever need. It does this without charging you a thing, so long as you don't want any shiny extras. Sure, they also make money off referring you to certain offers, but that does not influence their advice. You can bet on any suggestions and writings from Credit Sesame to be the most factual and helpful information you can find. They are professionals in the business, and reached their level of success because of their ability to focus on the facts.
9. Is Credit Sesame Accurate?
Credit Sesame is as accurate as just about any other credit monitoring service around. But, this is a subject that fuels many debates. Most of these services are relying on FAKO scores, which do not compare to what the average lender uses when evaluating you for a loan. Yet, that is not a huge issue as these scores give you a fair assessment on where your credit stands. If you are a new borrower, or you have a thin file, and you have no calculable FICO score, then the Credit Sesame score is even more helpful.
Meanwhile, you can read the implications of your credit actions as your Credit Sesame score changes. You do not have to worry about getting mystical numbers. If you do something that would impact your FICO score for the better, then the FAKO score would show just the same. So long as you keep an eye on the changes to your score over time, you will have a clear idea on where you stand.
Reviews of Credit Sesame's service often mention that the Credit Sesame score is accurate, and like the FICO score. While the two seldom match, they are always sitting within the same range and share the same momentum movements. The way FICO scores and FAKO scores get calculated are often similar. This is noticeable once you look at the algorithm for the scores given by both FICO and Credit Sesame.
10. Is The Credit Sesame Login Secure?
Credit Sesame is one of the safest businesses around, but even the best of the best get victimized at times. Though, Credit Sesame does not have any past history of data breaches or hackings. No users have ever had to worry about their account safety. In fact, this is something that many boast about when writing their own Credit Sesame review. But, just to be safe, always make sure you use the secure Credit Sesame login page.
Is Credit Sesame Right for You?
Without a doubt, Credit Sesame is an invaluable asset for all American borrowers. It allows you to stay on the top of your borrowing game, meaning you are always a few steps ahead. Credit Sesame reviews speak bundles about how helpful their services can be.
For example, many reviews boast about the Credit Sesame app and for good reason. In fact, the Credit Sesame app is as in-depth as it can get for a credit monitoring app. And that's why they pulled silver in the 2014 US Mobile & App Design Awards.
Whatever the reason for joining, you will be glad you did. It's clear that Credit Sesame is helps it's borrowers, or else they would not be review over $100 billion in consumer debt. It's as simple as that, and the service is also easy to use, so it's something everyone needs to test out.
Credit Sesame is free, nothing is stopping you from trying out their services RIGHT NOW!